Image: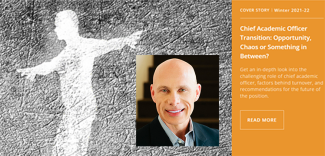 by Larissa Lozano
Brantley conducted interviews with chief academic officers and uncovered eleven key insights into what exactly makes chief academic officers stay or leave their positions. Brantley cites recent research indicating that 47% of CAOs have been in their positions three years or less and the median term is around six years. 
Brantley has personal experience with challenges of higher education administration. He served as associate vice president and chief human resources officer at the University of Georgia before becoming president and CEO of CUPA-HR. This research was part of his dissertation in the Executive EdD program at the McBee Institute of Higher Education.
Nearly all respondents described their role as "toughest job on campus" and cited pressures such as busy meeting schedules and broad scope of responsibility which made it difficult to prepare for discussions and make important decisions daily. 
Besides the high level of professional responsibilities, one CAO noted that working in such an intense work setting "came at a cost to my personal life and my health." Eleven out of the 13 CAOs listed the stressful environment as one of the main reasons why they leave their positions.
Despite the constant high-level demands, Brantley's interviews uncovered trends in how CAOs find that the work can be extremely rewarding. 
All the CAOs in the study mentioned that "contributing to the success of the institution and students were rewarding parts of their roles." Whether it is developing strategies for students or developing relationships with faculty members, CAOs enjoy helping others accomplish great things. Belief in the mission and potential of the organizations attract people to become chief academic officers and stay in the position. 
To truly be successful as a CAO, one must enjoy helping those around you. According to Brantley, "these jobs are all about figuring out how to empower people." 
The full article is available in Higher Ed HR Magazine, winter 2021-2022 issue.