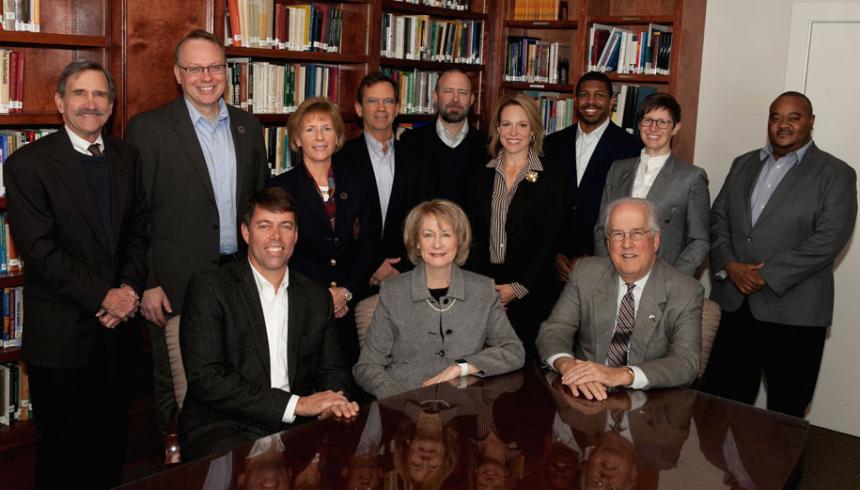 (l-r back) James Hearn, Tim Cain, Karen Webber, Robert Toutkoushian, Greg Wolniak, Leslie Gordon, Maurice Shirley, Amy Stich, George Spencer. (l-r front) Erik Ness, Libby Morris, Charles Knapp. (Photo by Marisu Wehrenberg, ZoomWorks)
The Louise McBee Institute of Higher Education (MIHE) is an academic unit of the University of Georgia committed to advancing higher education policy, management, and leadership through research, graduate education, and outreach. The McBee Institute's mission encompasses higher education issues at the campus, state, national, and international levels.
MIHE is noted for its multidisciplinary approach to graduate education and research, with areas of specialization in federal and state policy, governance and administration, institutional and system finance, faculty careers and development, institutional research and assessment, and knowledge development and exchange.
Following a transformational gift from the estate of M. Louise McBee, the University of Georgia paid tribute to the former administrator and state legislator with the naming of the Louise McBee Institute of Higher Education. 

"Dr. McBee's extraordinary legacy of leadership and service to UGA and the state of Georgia is one that will be remembered for generations to come," said UGA President Jere W. Morehead. "For her many contributions to this institution and to public higher education, we are pleased to recognize her and link her with the institute she cared so much about."

Read full release at: https://news.uga.edu/uga-institute-of-higher-education-named-for-louise-mcbee/