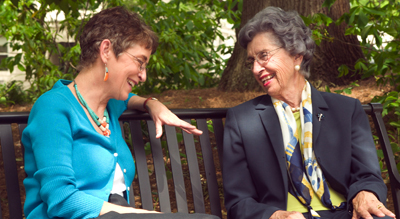 When Okim Kang received the Louise McBee Scholarship, she decided to contact the woman for whom the award is named. "She was the first non-native American to get the scholarship, and the first recipient ever to call me," said McBee. "She was just first rate." During the three and a half years Kang, a South Korean national, worked on her Ph.D. in language and literacy education, McBee got to know her well, and also her husband, Jin Hee Yi and their daughter, Dain Yi. And Kang, like many other women at UGA, found a mentor as well as a friend. "Sometimes after Louise would visit, I would feel this positive energy in the room," Kang said. "She has a presence." McBee was with her when she took her orals. She hooded Kang at graduation in May 2008, and she celebrated when she learned both Kang and her husband had found positions at Arizona State.
This is typical of Louise McBee who retired twice and remained involved in community affairs into her nineties. Interested in other people, she took time to invest in those who display potential, and she remained loyal, helping them better themselves. These traits, along with her competence and affirming personality, carried McBee safely through sometimes-turbulent waters during 25 years as a UGA administrator.
"I would have to say that what I'm most proud of is that during my whole career at Georgia, I fought for women," said McBee. "I fought for equity in salaries, for hiring more women faculty members, even for admitting more women students. It used to be that high school girls needed a higher GPA than boys did to get in. I didn't think that was fair, but it didn't change for years."
She saw the beginning of integration, the end of in loco parentis, a vast expansion of the campus, and the doubling both in enrollment and the number of faculty members. McBee weathered protests and sit-ins, segued smoothly from student affairs to academic affairs, and kept the university on course during the fallout from the Jan Kemp trial in the 1980s. She spearheaded an effort to make students more successful at UGA and beyond with programs informing them about campus resources and about possible career choices. Along the way, she mentored numerous young women—those in school, and those starting their careers at UGA, from faculty members to technicians to administrative staff. "There was a whole group of us who worked for Louise," said Claire Swann, former director of undergraduate admissions. "She was organized, she was fair and she knew what she was doing." Throughout her tenure, McBee functioned as an effective, forthright administrator, respected for her honesty, integrity and sense of fairness.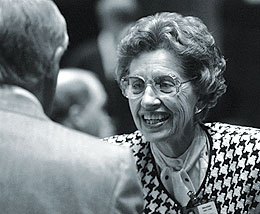 Former Athens Mayor Gwen O'Looney met McBee in the 1960s, when McBee was dean of women and O'Looney was a UGA co-ed. Young women were chafing under various restrictions and limitations, including curfews and a strict dress code. O'Looney was one of several students who lobbied McBee to make changes. "She calmed us down and guided us through the process of making recommendations," O'Looney said. "She turned a group of angry people into an effective group of negotiators making as much progress as was possible at the time."
Years later, the two met again on a community-wide committee studying the unification of Athens and Clarke County. O'Looney went on to become mayor of the unified government, and McBee would serve, very effectively, 14 years as a state representative from Athens. "There was no one in the General Assembly who didn't recognize her wisdom, competence and leadership," O'Looney said. "She's my mentor."
McBee lived in Athens for nearly 50 years, but she never lost her distinctive East Tennessee accent. After leaving her native Strawberry Plains, she attended East Tennessee State, Columbia University and Ohio State, where she earned her Ph.D. She taught in high school and college—receiving a Fulbright to teach in Holland—and then moved into administration. She came to UGA in the early 1960s. "My role model was the dean of women at East Tennessee State," McBee said. "That's why I went into administration. I taught one course in psychology at Georgia, but you can't teach and be an administrator effectively."
She served as dean of women at Georgia for four years, until that position morphed into associate dean of student affairs. In the early 1970s, she was named dean of student affairs, a job that placed her in an elite group. She was one of four women in the U.S. holding top jobs in student personnel in schools with more than 10,000 students. In 1987, in the aftermath of the Jan Kemp trial, some high-level UGA administrators left their jobs. Interim President Henry King Stanford asked McBee to become interim vice president for academic affairs. She had been working in academic affairs for 12 years and she accepted. Appointing McBee "was a brilliant choice," said retired UGA administrator Carol Winthrop. "She restored order and credibility."
A few months later, when Chuck Knapp became UGA president, he looked to McBee for help in understanding the campus. He prevailed on her to stay in her position for a year, "and she was invaluable to me, with so much institutional knowledge and love for the university." After retiring in 1988, McBee joined Stanford on an expedition to Mount Everest, making it to a base camp at 17,500 feet.
Three years later, she attained another lofty goal, winning a seat in the Georgia House of Representatives, where she served 14 years. Her UGA years gave her the authority to help set state policy in higher education. She was also the pivotal figure in establishing the highly successful Governor's Teaching Fellows Program, said Tom Dyer, former director of the Institute of Higher Education. About 300 faculty members, drawn from Georgia's many colleges and universities, have completed this development program. "Louise is at once a visionary and a realist," said Dyer.
McBee's contributions to the University of Georgia and to education in the state of Georgia have been immense. She has been a guiding star in the lives of so many that her influence is hard to calculate. But the comments of Carol Winthrop, who worked with McBee for years, seem typical: "Anything good in my career that happened to me, Louise McBee was part of it," she said. "She's the best citizen soldier I know. She has always done what needed to be done."