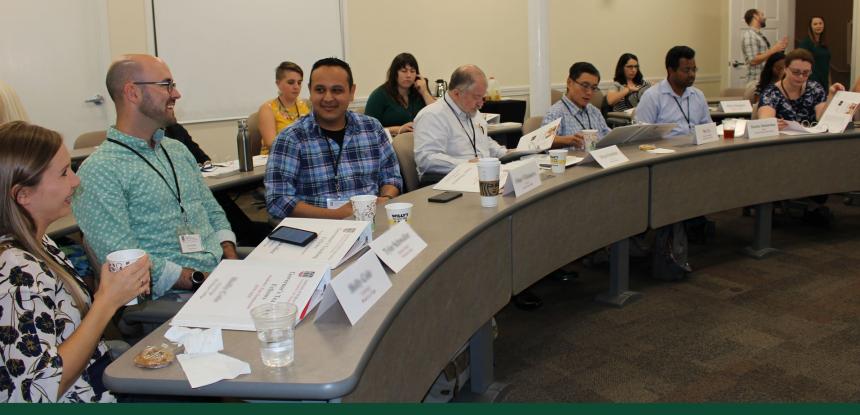 The Governor's Teaching Fellows Program was established in 1995 by Zell Miller, governor of Georgia, 1991-1999, to provide Georgia's higher education faculty with expanded opportunities for developing important teaching skills. Governor Miller envisioned that this program would address faculty members' pressing need to use emerging technologies and instructional tools that are becoming increasingly important for learning in today's society.
The seeds of the Governor's Teaching Fellows Program were planted 35 years ago by the Faculty Development in Georgia Program, designed to assist faculty members in Georgia institutions obtain terminal degrees through funded residencies at UGA. Further, a large and comprehensive model for faculty development had been initiated at UGA's Office of Instructional Support and Development (now named Center for Teaching and Learning). The experience and the success of these initiatives shaped the Governor's Teaching Fellows Program, which is open not only to the state institutions, but to all private colleges and universities in Georgia.
To improve the quality of instruction in Georgia's colleges and universities, the Governor's Teaching Fellows Program assumes the complex challenge of moving college faculty members to the leading edge of instructional practice. This effort to enhance instruction in public and private higher education statewide is very much in keeping with the University of Georgia's traditional mission as a land-grant institution committed to diversified outreach and public service.
To date, more than 75 different disciplines, professions and teaching areas have been represented by our Fellows, and they have come to us from more than 45 institutions statewide: large and small, public and private, everywhere from the northern mountains to the Florida state line and between the Atlantic coast and the Alabama border.
Former Directors
Ronald Simpson (1995-2000)
Marguerite Koepke (2000-2019)
Leslie S. Gordon (2019-2022)