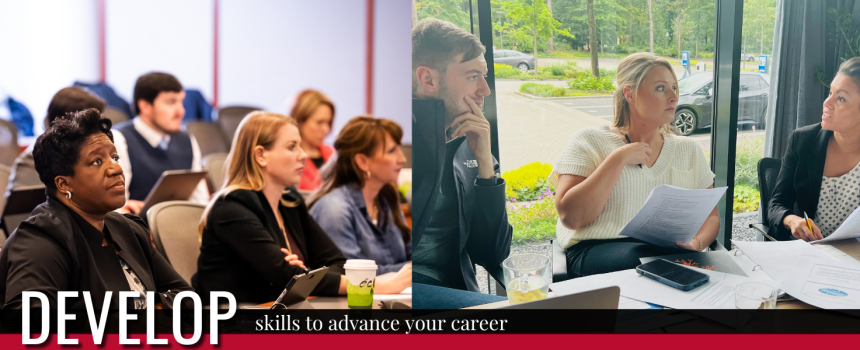 The Executive Ed.D. in Higher Education Management curriculum encourages collaborative and active learning as cohort members move together through coursework over six semesters. 
Each cohort's diversity across professional roles and responsibilities, educational backgrounds, demographics, aspirations, and educational philosophies yields a laboratory for consideration of complex, real-word issues and abundant opportunities for study and productive discussion. The curriculum deepens not only disciplinary knowledge and expertise, but also competencies for effective and innovative leadership and management. 
Four key pillars distinguish our curriculum:
Graduate-level courses taught by tenured and tenure-track McBee IHE faculty
International and U.S. intensive field studies

Comparative higher education (Netherlands)
Federal and state policy (Washington, D.C.)

Integrated research activities, aligned with student expertise and interests, culminating in a scholarly dissertation
Leadership seminars with noted experts
See 2024-2025 cohort dates here.
Graduate Courses
Students enroll in two-to-three advanced graduate courses per term led by the McBee Institute faculty. The program of study features foundational courses (e.g., Organization and Governance), emerging areas of study (e.g., HBCUs, College Access and Success), and research methods courses. Each course is designed to equip students to analyze complex problems and inform challenging decisions in the context of rapid cultural, economic, technological, and political change.
Three strategic themes are emphasized throughout students' course of study:
Institutional effectiveness and innovation
Student access, equity, diversity, and success
Policy development and policy effects
Courses offered in prior cohorts are listed below:
EDHI 8010: Higher Education in the US
EDHI 8990: Introduction to Higher Education Research
EDHI 9050: Organization and Governance 
EDHI 8910: Quantitative Methods 
EDHI 9400: Comparative Higher Education (European-based class)
EDHI 9070: College Access and Success 
EDHI 8930: Qualitative Research 
EDHI 9000: Doctoral Research
EDHI 9020: Critical Issues in Higher Education
EDHI 8400: Finance in Higher Education
EDHI 8700: State Policies 
EDHI 9500: Policy Studies (Washington DC-based class) 
EDHI 8300: Law and Higher Education
EHDI 9010: Academic Programs 
EDHI 9300: Doctoral Dissertation

(52 credit hours)

International and U.S. Field Study

Our field studies are distinctive features of the McBee Institute Executive Ed.D. and are often cited among the most transformative aspects of the program by the graduates.

Student travel to the Centre for Higher Education Policy Studies (CHEPS) at the University of Twente (Netherlands) in their first summer in the program. Our partners at CHEPS are international researchers who lead seminars and facilitate an institution-building simulation that focus on issues of governance, management, international education, and global trends.

In the second summer, cohorts travel to Washington, D.C. to study federal and state policy during their final program year. Building on strong professional ties and years of experience conducting a popular Ph.D. seminar in D.C., we coordinate onsite meetings with senior personnel in educational agencies, associations, and organizations. 

Dissertation

Dissertations are embedded in the six-semester curriculum and designed to be completed within the two years of study.  Students are paired with a major professor by the end of their first summer. They are encouraged to follow their own areas of expertise and ongoing interests in the selection of a dissertation topic.

Leadership Seminar Series 

Dr. Charles B. Knapp, President Emeritus of the University of Georgia, moderates the leadership series, a critical ingredient in the program's effectiveness. Leadership seminars kickoff the cohort's regular sessions and offer students an opportunity to reflect on leadership competencies, experiences, and challenges. The speakers, all accomplished senior leaders in colleges and universities, agencies and associations, or corporate entities, highlight their personal experience and critical issues in leading and managing in today's complex environment.

Prior speakers have included the following:

Dan Amos, CEO of Aflac, Inc.
Casey Cagle, Former Lieutenant Governor of Georgia
Michelle Cook, Senior Vice Provost, UGA
Wayne Clough, President Emeritus of Georgia Tech and Secretary Emeritus of the Smithsonian Institution
Jennifer Frum, Vice President of Public Service and Outreach, UGA