Image: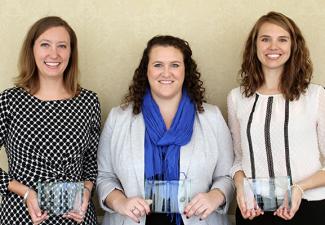 Three doctoral students in the Institute of Higher Education were honored at a special awards luncheon hosted by IHE on October 6, 2017.
Melissa Whatley and Karley Riffe were the recipients of awards honoring the memories of IHE faculty members Thomas G. Dyer and J. Douglas Toma. Lori Hagood was named the 12th recipient of the Zell and Shirley Miller Fellowship, established in 2005 to honor the former Georgia governor and his wife.
Dyer, professor of higher education and history, was a longtime UGA administrator who was serving as IHE director at the time of his retirement in 2006. His many honors included being named University Professor in 1998 and posthumously receiving the inaugural President's Medal from the UGA Alumni Association in 2013.
Toma, professor of higher education and a highly regarded scholar, developed IHE's executive doctoral program in higher education management, which was launched in 2010.
"Tom Dyer and Doug Toma made extraordinary contributions to the Institute of Higher Education and their impact continues to be felt through the awards that bear their names," said IHE Director Libby V. Morris. "We are very grateful to alumni and friends who have contributed to these scholarship funds, as well as the Miller Fellowship, to provide financial support to the next generation of higher education leaders."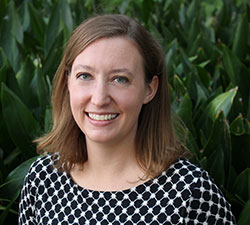 The Dyer Outstanding Dissertation Research Award was awarded to Whatley for "rigorous original scholarship in the field of higher education." Her current research focuses broadly on issues related to the democratization of study abroad, including access to study abroad opportunities, equity in study abroad experiences, and policies that influence students' participation in education abroad. Her dissertation work in particular takes an institutional stratification perspective of the role that institution type plays in students' study abroad participation patterns and experiences.
In a recent study, currently in-press in the Journal of Studies in International Education, Whatley examined the relationship between students' finances and their participation in study abroad. She presented her research at both the Association for the Study of Higher Education (ASHE) and the American Educational Research Association (AERA) during the past academic year, and also presented research at the NAFSA: Association of International Educators Research Symposium. She will again be presenting her work at this year's ASHE conference. After graduation, Whatley hopes to continue on to a faculty position.
Whatley earned bachelor of arts degrees in Romance languages, Spanish, and linguistics and an M.A. in Romance languages from the University of Georgia. Prior to beginning doctoral work at IHE, she taught both Spanish and French for eight years at a variety of institutions. She currently holds a graduate assistantship in the international partnerships division of UGA's Office of International Education.
"My experience in IHE has been positive from day one," she says. "The faculty are very giving of their time and work hard so that all of their students are successful. I am fortunate to have worked with all of them in one capacity or another over the course of the past few years. They have always been willing to meet with me and provide me with feedback on my work even when I know they had many other people and responsibilities that needed their attention. My experience in IHE has been equally influenced by the people in my cohort, who have supported me in this program probably more than they know."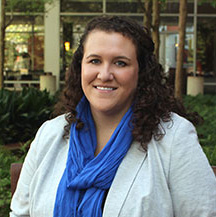 The J. Douglas Toma Excellence in Scholarship and Service Award was presented to Riffe for her academic achievements and institutional engagement.
Riffe's research explores the nature of faculty work and the changing academic profession within different institutional contexts across colleges and universities in the United States. Her dissertation examines the contributing factors that determine appointment type in academic hiring decisions at public, comprehensive institutions and the implications of those decisions. In addition to her own work, Riffe contributed to three externally-funded projects with IHE faculty members, exploring university trustees, faculty retirement, and the changing academic workforce. She has presented research papers at the annual meetings of both ASHE and AERA throughout her time at IHE. After her expected May 2018 graduation, she plans to continue her academic research and service to the field as a faculty member in higher education.
Riffe received her B.A. in Spanish from Georgetown College and M.Ed. in student affairs from Widener University. Currently, she serves as a graduate assistant with UGA's Center for Teaching and Learning.
"IHE has given me opportunity after opportunity to develop both as a researcher and as a member of the scholarly community," she says. "My decision to pursue my doctorate here is consistently reaffirmed by my interactions with IHE students, staff, and faculty and I look forward to building on what I've learned here after graduation."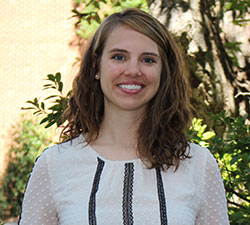 The Miller Fellowship was awarded to Hagood as a "doctoral student of high promise." The fellowship was established to support doctoral study of significant issues in the field of higher education. 
As a graduate assistant, Hagood supported UGA's student success initiatives in the Office of the Vice President for Instruction. Since 2014, she has presented more than ten papers at national conferences such as ASHE, AERA, and AIR. 
Hagood is currently a research associate for the Board of Regents of the University System of Georgia in the Division of Research and Policy Analysis. Her research focuses on state policy for higher education, particularly as it relates to finance and student success outcomes. Her dissertation examines how incentive policies restructure state funding for public higher education. She will continue her work for the Board of Regents following her December 2017 graduation.
Hagood earned a B.S. in mathematics from UGA and was a high school math teacher before beginning her career in higher education.
"My time at the Institute has been challenging and rewarding, and I do not believe a better graduate experience could be found anywhere," she says. "Not only are the faculty actively shaping the field of higher education, they are among the kindest and most supportive people with whom I've had the pleasure of working. I am grateful for the opportunities IHE has afforded me."