Image: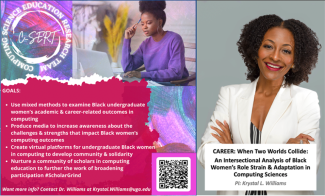 Krystal L. Williams, assistant professor at the Louise McBee Institute of Higher Education, has received a prestigious National Science Foundation Faculty Early Career Development Program (CAREER) award of over $600,000 to examine undergraduate academic and career-related outcomes among Black women pursuing computing degrees.
With two degrees in mathematics, Williams has spent her academic career enrolled in and then studying STEM pathways in higher education. While she knows that the STEM acronym can be useful, she also recognizes its limits. The STEM disciplines are quite different, and the students who pursue degrees in them can have very different experiences.
As each previous inquiry led her in new directions and fueled her with new questions, she came to realize how much work needed to be done to understand the experiences of Black women within specific STEM fields.
When a related study uncovered a significant lack of gender diversity in computer science (women earned 20% of bachelor's degrees in this field, and Black women comprised only 2% of degree recipients), Williams narrowed her focus to understanding the challenges or biases Black women face as well as the strengths and supports that foster resilience.
"Given the longstanding underrepresentation of Black women in computing professions, and the important role of higher education as a conduit to the workforce, this project will examine academic and career outcomes and develop initiatives to foster public engagement in prevailing equity issues," said Williams.
By addressing the need for more research on the unique experiences of Black women in computing, Williams fills an important gap in the literature and opens new areas of research in exploring potential race-gendered biases.
"This national study will provide groundbreaking insights on this topic," said James C. Hearn, interim Director of the McBee Institute. "Dr. Williams is a rising star [and] has conducted novel research and developed a line of scholarly inquiry that sets her apart from her peers."
In addition to the rigorous mixed-methods research, the five-year project includes a three-part outreach plan to: inform CS education practices; develop and disseminate a documentary about Black undergraduate women's experiences in computing; and launch a media-informed curriculum. The educational and outreach components will complement and expand the impact of the research findings.
Williams anticipates that the project will improve awareness of strengths, barriers, and remedies in CS education and educator development. A project goal is that institutions will use the findings and recommendations to inform organizational change, especially as it relates to designing mentoring opportunities and other outreach initiatives.
To directly engage with current postsecondary students, Williams will recruit and mentor undergraduate and graduate students to be part of the project team. The team also will create virtual spaces of advocacy and support for undergraduate Black women in computing.
Williams began work on her CAREER project, When Two Worlds Collide: An Intersectional Analysis of Black Women's Role Strain and Adaptation in Computing Sciences, on August 1, 2023.
CAREER awards are highly competitive early-career recognitions of faculty who have the potential to serve as academic role models in research and education and to lead advances in the mission of their department or organization.
Williams' research portfolio has focused on anti-deficit and policy-relevant work concerning HBCUs, STEM participation and persistence, and student strain. Through her leadership of the Education Policy and Equity Research Collective (Ed_PERC), Williams developed and refined a team approach to addressing key educational issues that disproportionately impact marginalized groups.
In 2022, Williams received the American Educational Research Association Scholars of Color Early Career Contribution Award and the Association for the Study of Higher Education Council on Public Policy in Higher Education Excellence in Public Policy in Higher Education Award for her work on issues that disproportionately affect minoritized groups.