Image: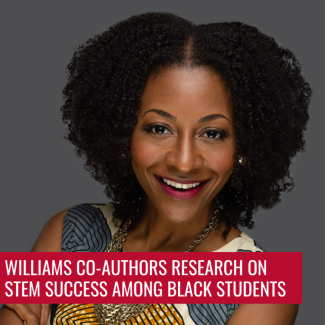 by Jewel Caruso
Krystal L. Williams, assistant professor at the McBee Institute, co-published an article in the Journal of Women and Minorities in Science and Engineering with Leonard D. Taylor, associate professor at Auburn University.
Their article, "The Black Cultural Student Stem Success Model: A Framework for Black Students' Stem Success Informed by HBCU Environments and Black Educational Logics" explores the Black Cultural Student (BCS) STEM Success Model. The framework helps to identify factors for success among Black students in STEM fields and is based on the idea that HBCUs have a unique way of teaching that works particularly well for Black students.
HBCUs are dedicated to creating a supportive environment for Black students in STEM by establishing an asset-based approach to training which prioritizes minority socialization.
The authors highlight the challenges Black students face such as stereotype threat, lack of representation, and sense of not belonging. Williams and Taylor call on the BCS model to help navigate these challenges.
Starting with how other institutions can look to HBCUs to help their Black students succeed in STEM classes, the BCS model also highlights the importance of creating a supportive campus culture that reflects Black culture and values, providing mentorship and role models, fostering a sense of community, and promoting academic rigor and excellence.
"In charting a more directed path to move the needle on these issues, it will be important to look at the institutions that have to history of success in Black students' STEM development," Williams and Taylor write. "HBCUs remain thought-leaders in this space, although they have been underutilized to this end."
Williams and Taylor considered existing empirical research in the use of the BCS model. They note that with a complete, systematic literature review is beyond the scope of this conceptual paper, but the existing literature reflects Black educational logics at work within STEM at HBCUs. 
To view the full article, please visit here.