Image: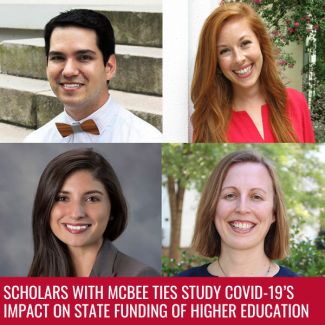 by Jewel Caruso
Research by three McBee Institute PhD graduates and a former postdoctoral associate is published in Educational Evaluation and Policy Analysis. The article, titled "'One of the Weakest Budget Players in the State': State Funding of Higher Education at the Onset of the COVID-19 Pandemic" is a qualitative study of higher education appropriation decisions in two states.
The authors, Denisa Gándara, Meredith S. Billings, Paul G. Rubin, and Lindsey Hammond, continue their work into policymakers' funding decisions for higher education at the start of the pandemic. Their first article on educational funding appeared in American Behavioral Scientist. 
Overall, the McBee researchers found that state funding for public higher education diminished during the COVID-related economic downturn in the early 2020s. This data is also consistent with historical patterns of receiving deeper cuts than other areas of state budgets during economic uncertainty. 
Their framework is based in social construction and policy design theories and draws insights from the balance-wheel model in which higher education receives deeper cuts than other areas of state budgets during economic downturns and renewed investment when the economy improves. They refer to Schneider and Ingram's theory of how policymakers distribute benefits and burdens to groups based on their perceptions of value.
They found positive impressions of higher education across the legislatures in the study and an appreciation that reductions to higher education budgets lead to cuts that impact a broad array of benefits to individuals and employers in their districts. 
However, not all postsecondary institutions are equally well-endowed or supported to weather economic downturns. Gándara, Billings, Rubin, and Hammond urge policymakers to consider both short-term budgetary constraints and long-term consequences when making decisions regarding higher education allocation.
To ensure the continued viability of less competitive and two-year institutions that might not have strong advocates among policymakers, they hope the findings will "help higher education lobbyists, administrators, advocates, and researchers more fully understand the role that social constructions, political power, and other factors play in higher education funding decisions and how to influence these decisions to lead to more desired outcomes."