Image: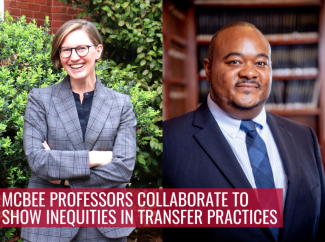 by Jewel Caruso
Amy Stich, associate professor, and George Spencer, assistant professor, recently published an article in Research in Higher Education titled "College Choice Revisited: Socioeconomic Differences in College Transfer Destinations Among Four-Year College Entrants."
Stich and Spencer sought to gain more insight into the strategies and effects behind lateral transfer decisions among students  across socioeconomic groups. They believe the study "provides evidence of the role of college transfer in exacerbating class inequalities in higher education."
The research team used quantitative data that tracked students over six years, starting in 2003. empirical and theoretical basis literature for research, According to their findings, White students and those from higher socioeconomic (SES) backgrounds were unlikely to transfer overall, and when they did, a higher proportion of them entered a more prestigious institution. In contrast, a higher proportion of transfers among students representing low-SES, Black, and Hispanic/Latino backgrounds were to less selective schools. Stich and Spencer's research adds depth to the literature  focusing on transfer between  four-year colleges and universities and provides policy insights.
Specifically, they highlight the empirical evidence supporting articulation agreements. They write, "Through such efforts, selective, public institutions can use their resources to eliminate admissions barriers for many low-SES students and work towards advancing more equitable transfer outcomes."
Stich and Spencer encourage researchers to critically analyze how  common admissions practices, such as SAT/ACT scores, essay requirements, and emphasis on extracurricular activities  disadvantage students from lower SES backgrounds and continue inequities in higher education.
To view the full article and research, visit here.