Image: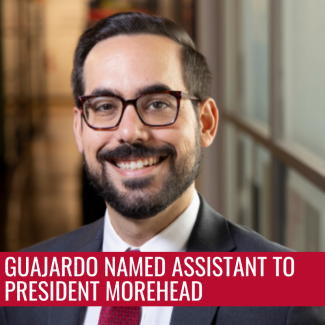 by Jewel Caruso
Rod Guajardo (current doctoral student) has been named assistant to President Jere W. Morehead at the University of Georgia. He will transition into this position on November 6th. 
Guajardo's new role will be concentrated on student affairs, inclusive excellence, community relations, and executive communications. In addition to these responsibilities, he will serve as President Morehead's liaison on the Staff Council, Retirees Association and the Student Government Association.He will also oversee the President's Venture Fund and communications projects for the Office. 
This position is also instrumental in planning major university events, such as  the Holmes-Hunter Lecture, the Mary Frances Early Lecture, and the annual Staff Appreciation Day.
"Rod will be an excellent addition to the Office of the President," President Morehead announced. "He has a diverse array of experiences in and outside of higher education that have prepared him well for this important role. Rod will be a strong partner to key stakeholders throughout our campus and the local community, and I look forward to working with him." 
Guajardo started at UGA in 2021 as the senior director for Integrated Media Communications for the Marketing and Communications division at UGA. As the senior director, he manages media relations efforts for the university and leads a team of communications professionals and editors to tell UGA's story through earned, shared, and own media opportunities. This includes overseeing UGA's quarterly magazine, Georgia Magazine. 
"I am honored by the opportunity to assist President Morehead in advancing the university's mission of teaching, research, and service," Guajardo said. "I look forward to working together with our students, faculty, and staff in this role, as well as collaborating with our partners in Athens-Clarke County to enhance UGA's impact in the local community." 
Prior to joining UGA, Guajardo served as the director of news and media relations at the University of Mississippi (Ole Miss). There he led strategic media relation efforts and crisis communications. Before that role, he worked for nearly ten years in the newspaper industry at several different outlets. 
Congratulations to Guajardo! To view UGA's full press release, visit: https://news.uga.edu/rod-guajardo-named-assistant-to-the-president/