Image: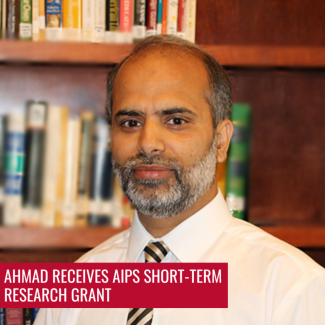 by Jewel Caruso
Ijaz Ahmad, current doctoral student, has a received short-term research grant from the American Institute of Pakistan Studies (AIPS) for $3,000.
This grant will help fund Ahmad's research related to Pakistan's higher education, titled "Seeing Beyond Control: Assessing the Impact of the 18th Amendment on Pakistan's Higher Education."
Ahmad strives to explores how the quality and relevance of higher education in different provinces of Pakistan are affected by the constitutional amendment that reshaped the Pakistani governance.
The 18th amendment transformed Pakistan into a parliamentary republic and removed the responsibility for higher education from the federal government. In the wake of the amendment passage, the federal and provincial governments have struggled for power over provincial governments and universities.
Ahmad's research builds on his previous comparative studies on European and North American higher education reforms.
The grant award will support travel to collect preliminary data for developing a comprehensive research project.
"The AIPS grant will help me achieve multiple goals," Ahmad said. "[First], travel to Pakistan to collect qualitative data and develop a more comprehensive research proposal to be submitted to other funding bodies. [Second], to develop an instrument to conduct a quantitative survey. [Lastly], to identify the sources or collect institutional and system level quantitative data to conduct causal statistical analysis and assess the impact of devolution."
Through careful qualitative study, which includes reviewing legal and policy documents, published reports, and media reports, as well as conducting semi-structured interviews, Ahmad seeks a more comprehensive understanding of the impact across Pakistan. Pending IRB approval, Ahmad hopes to conduct interviews in Islamabad, Lahore, Peshawar, Karachi, and Quetta. 
AIPS is a bi-national research and educational organization dedicated to promoting the academic study of Pakistan in the US and encourages scholarly exchange between both and countries. 
Congratulations to Ahmad on this research grant!