Image: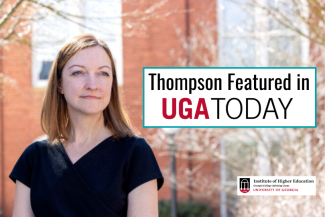 by Jewel Caruso
Brook Thompson, program director of the Georgia College Advising Corps (GCAC), was recently recognized in an article by UGA Today.
Her dedication to professional advocacy for education equity was highlighted in the article: 
"Whether training English teachers in Mexico or training the next generation of college advisers, Thompson has committed herself to helping everyone achieve academic success. Now, with GCAC, Thompson brings that achievement to Georgia."
Thompson became the program director in the summer of 2020 with extensive education knowledge. She taught English classes while also training English teachers when she lived in Mexico. One of Thompson's many goals as the director is to communication with school systems and funding partners while also training college advisers to ensure a successful program. 
GCAC works in underserved high schools throughout Georgia to increase the number of low-income, first-generation, and underrepresented students who attend and complete higher education. MIHE created this program in 2009 to assist underserved high school students. Initially, GCAC had four advisers working with four high schools. Now with over a decade of positive impact and experience, the program has 24 college advisers serving 20 high schools.
With the ratio of students-to-counselors in Georgia remaining over 430:1, GCAC is essential for underserved students and their schools.
Congratulations to Thompson for her recognition to Georgia and UGA.