Image: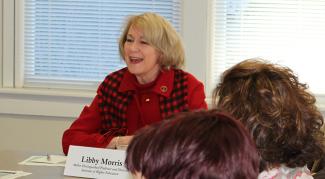 On Monday, February 28, Libby V. Morris announced that she would step down as director of the McBee Institute and return to the faculty on July 1, 2022.
"With mixed emotions, I share my plans to step down as the director at the end of this fiscal year. As you know, the McBee Institute is a great place to study, conduct research, and serve, and I am privileged to work alongside amazing faculty, staff, and students," said Morris.
Morris is the Zell B. Miller distinguished professor of higher education and has served as director of the Institute since 2006. She stepped away 2010-2013 to serve as vice provost for academic affairs, and 2013-2014 and 2018-2019 to be interim senior vice president for academic affairs and provost.
Her impact has touched areas across the university with her vision and active involvement in initiatives the Office of Online Learning, the UGA Arts Council, and the Science Learning Center.
During her tenure as director, the Institute added a master's program and launched an Executive Doctorate in Higher Education program. In 2009, the Institute added another major outreach program, the Georgia College Advising Corps.
Morris also oversaw the development of international ties with new partnerships with the University of Rijeka (Croatia) and the Erasmus Mundus Master's in Research and Innovation in Higher Education programme.
The Institute steadily moved up in national rankings to be ranked consistently among the top 10 graduate programs in higher education administration under her leadership.
In the summer of 2021, the Institute received a transformational gift from the estate of Louise McBee, a former UGA academic leader and state legislator. The Institute was named in honor of McBee in the fall.
Morris noted, "When we celebrated our naming for Dr. McBee in November, I stood in awe of our collective accomplishments, and I knew it was time to turn the page on a new chapter." 
Morris accomplished much for the university and its faculty, staff, and students. As an administrator, she remained active regularly leading dissertation committees, mentoring students, and serving as the editor of Innovative Higher Education, 2002-2019.
In recognition of her work, she has received awards for excellence in teaching and in public service. In 2005, she was invited into membership in the UGA Teaching Academy. She was recognized with the Faculty Service Award from the UGA Alumni Association in 2021. She delivered the fall 2019 graduate commencement address. Morris also received the inaugural Spirit of Public Service and Outreach Award, the Institute for Women's Studies Faculty Award, and the Blue Key Faculty Service Award.
The Office of the Senior Vice President for Academic Affairs and Provost will share the process for filling the directorship on its website.