Image: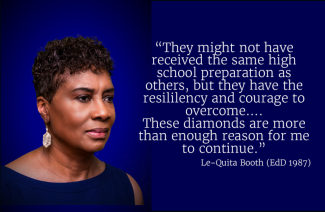 When Le-Quita Booth enrolled in the Ed.D program at the University of Georgia's Institute of Higher Education (now the Louise McBee Institute) in the mid-1980s, she had no difficulty articulating her motivation. She was told that she needed a doctoral degree to be considered for the promotion she wanted. So, she pursued and obtained the degree while continuing to work full time.
Her career is full of such examples of her pragmatism and indomitable spirit. She willing to listen, assess, and put in the work. When the answer is "no" to something she believes in, she seeks to remove obstacles and excuses to get to "yes."
"I've always said, 'Hope is not a strategy,'" explains Booth. "You need to have mechanisms in place [to accomplish your goals]."
Booth is currently the executive director of the National HBCU Business Deans Roundtable, where she coordinates with business partners to enhance internships and employment opportunities for Black students in some of the nation's top industries. She also is founder and CEO of Education Training Specialists, a leadership and organizational development consulting firm.
Through the twists in her career, she acknowledges the supportive mentors who have helped her, including her major professor and then-director of the Institute, Dr. Cameron Fincher. "He always had a sparkle in his eye…. He helped me constructively take criticism and learn from it." In addition to Fincher, Booth's journey has been filled with people who she describes as "courageous and aware of what is most important." 
Mentors, like Sybil C. Mobley and Percy J. Vaughn, Jr., shared and reinforced her commitment to servant-leadership and an unwavering focus on seeing and preparing the next generation. "I feel it is necessary to be proactive and stay connected to the students." 
Booth started working with President Mobley at Florida A&M University after a brief time away from academia. It was her first time at an HBCU, and she was impressed by the level of care and responsibility the administrators felt for the students. She notes, "The mission has always been more than education. [Our HBCUs] celebrate culture and identity for students who may not have seen their cultures celebrated before." More of the students also were carrying heavy stresses and facing economic challenges than she encountered during her time at UGA, and she wanted to support them as they achieve their goals.
From her early professional career in banking and small business development centers, she appreciated the importance of empowering students with management skills. "When I started, our business schools taught Black students to type, I wanted to develop leaders."
Her dissertation, The University System of Georgia's Administrative Development Program: A Means to Increase the Pool of Black Administrators, took a similar approach to academic professional development. She carried that mission to expand access to senior administration when she served at FAMU and later at Alabama State University, where she served as dean of the College of Business Administration.  
Regardless of the field, Booth believes that creating an innate professionalism and confidence within a student is critical. "Knowledge might have a shelf-life, but competency does not," she says. In her roles as faculty member and administrator, she has seen student learning arcs begin with complete unawareness of professional practices and norms. Booth articulates her commitment to developing the next generation into leaders who "transcend to a state of unconscious competency in which critical thinking and other managerial skills are second nature."
Her work with the business deans and the partner organizations enables her to advance both the students and the businesses they work for. She strives to build trust and create bridges in both directions.
Booth especially celebrates the students who carry full-time jobs, serve as caregivers to family and yet believe in the power and promise of a postsecondary degree and use their hope to persist and graduate. She explains, "They might not have received the same high school preparation as others, but they have the resiliency and courage to overcome…. These diamonds are more than enough reason for me to continue."
Congratulations to Dr. Booth on her on-going accomplishments and those that she inspires in the people around her.
by Suzanne R. Graham
srgraham@uga.edu