Image: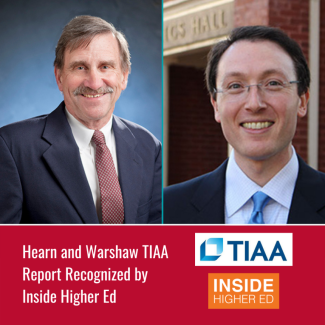 by Jewel Caruso
James Hearn and Jarrett Warshaw's (PhD 2016) latest TIAA (The Teachers Insurance and Annuity Association) Institute report, "The pandemic and access-oriented private nonprofit colleges" was highlighted in an article on Inside Higher Ed.
Access-oriented colleges have less selective acceptance rates and a wide range of test scores. This study seeks to answer the question, "How would underrepresented populations dare in the context of radically changed educational operations?"
Their report reveals that despite the initial dire warnings of the pandemic negatively affecting underrepresented racial minority (URM) students, they were not disproportionately harmed at the 152 colleges in this study. While the overall enrollment for students declined in the 2020-2021 academic year, their data reveals the decline for underrepresented racial minority students was "less steep." Also, the retention rate of all students from the first year to the second year rose in the 2020-2021 year. They report data limitations preventing them from "examining retention rates among URM students."
Out of the 152 colleges examined in this study, only one significantly changed during the study. However, this college was able to adapt strategically and move entirely to graduate-level programming rather than closing permanently. 
Hearn is MIHE's associate director and professor and has been a TIAA Institute Fellow since 2005. Warshaw is an associate professor in the Department of Educational Leadership & Research Methodology at Florida Atlantic University.