Image: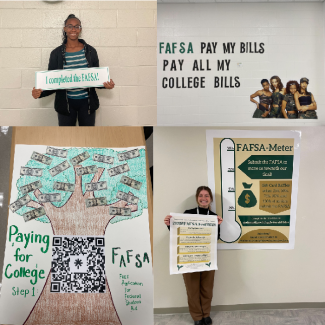 by Abby Poirier
The Free Application for Federal Student Aid (FAFSA) opened on October 1st, which presented a new opportunity for advisers to kick off financial aid efforts and motivate their students to submit the FAFSA. Throughout the month advisers have spent time educating students and their families about filling out the FAFSA and applying for scholarships. 
Advisers are encouraged to host innovative and informative FAFSA events throughout the school year. Mack Morris, the adviser at Drew Charter School explains, "our school designated October 'FAFSA Fest', and so we kicked off with FAFSA Break-Fest and celebrated the opening of the FAFSA. As seniors arrived at school, we asked 'Do you know what we're celebrating?' almost all of them were able to answer correctly! Those early events built awareness around the FAFSA…. We also held a FAFSA Completion Night which was a great way for us to serve the families who needed some additional support. We had 26 families attend, and most of them started and submitted their FAFSA that same night." 
The Midtown College Advisers organized "FAFSA Fright Fest" month in October, hosting various activities and workshops to promote knowledge of financial aid and support students & families in completing the FAFSA. The month's festivities culminated in the Monster Mash FAFSA Bash, where the College and Career Center was transformed into a lunchtime Halloween-themed party to celebrate seniors who submitted their FAFSA in October. Over 70 seniors attended to eat pizza/treats, listen to spooky music, participate in Halloween games, and ask any questions about financial aid or college applications. 
Alcovy High School adviser, Hayley Jones, also used a Halloween theme for her FAFSA events. She put on a FAFSA Trick or Treating event where students were assisted in creating their FSA ID and submitting their FAFSA while receiving Halloween candy as incentives.
Posting visuals in their school like FAFSA flyers, bulletin boards, or meters is another way many advisers promote the FAFSA. See our photo collage for some examples. 
Helping their students complete the FAFSA and understand the financial aid process is just one way the college advisers are committed to supporting students with their post-secondary goals.