Image: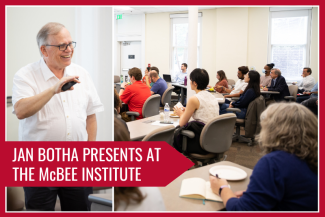 by Jewel Caruso
The McBee Institute welcomed Jan Botha, a professor at Stellenbosch University in South Africa, in mid-September to share his expertise with our faculty and students.
Botha is the editor and co-author of Intersecting Contexts and Practices (SUNMEDIA, 2016) and Utilisation of South African Research on Higher Education (SUNMEDIA, 2021). Botha's presentation, "Research on higher education, institutional research, and research utilization," explored findings in his books using examples from research on higher education in South Africa for illustration of trends and practices.
"His talk encouraged audience members to consider the update of one's research - the need to consider what happens with one's research once it's completed," said Karen Webber, professor emeritus of the McBee Institute. "Sharing findings through multiple forms of communication will enable scholars to determine where their findings impact an educational practice or process, and that could lead to the need for additional changes in practice and research to re-examine the issue."
Alexa Arndt, a doctoral student, greatly values the Lunch and Learn Sessions with Scholars, saying, "What I appreciate the most about [them] is the opportunity to engage in dialogue beyond my specific research interests. Dr. Botha's session was an incredible opportunity to contemplate comparative higher education scholarship; I left the session with energy and curiosity that I've come to rely on following such McBee Institute programs!"
The opportunity to meet with scholars from around the globe is an invaluable experience and one we are proud to be able to provide to our faculty and students. We thank Jan Botha for sharing his time and research at the McBee Institute.
To read more about Jan Botha, please visit this website for a detailed biography.