Image: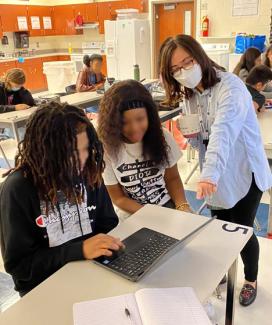 by Emaleigh Fleeman
All across the state of Georgia, school is back in session. Georgia College Advising Corps welcomed fifteen new advisers this school year to assist high school seniors with their post-secondary plans. While high school students enjoy the summer off, college advisers worked hard to prepare for the upcoming school year through a four-week summer training session. Advisers built relationships with fellow advisers and the leadership team, while learning from USG faculty members and staff, former college advisers, and PhD students from the McBee Institute of Higher Education. Training topics included How to Build a College Going Culture, Financial Aid and FAFSA, Institution Types, Working with LGBTQ+ Students, and more.
Nurie Langlois, first-year adviser serving at Heritage High School, brought what she learned in summer training into the classroom. Nurie (pictured) presented to a CTAE Food Science class about the college going process. She discussed the concept of "match and fit", teaching students how to navigate the college search by identifying colleges that are a good "match" (GPA, standardized test scores), and "fit" (distance from home, institution type, school size, etc.) for them.
When asked about this experience Nurie said, "The CTAE teachers at Heritage High noticed that the biggest issues the seniors had with beginning the college process was not knowing where to start, so I created a presentation that showed the students a step-by-step process on all of the pathways available to them post-high school." At the end of Nurie's presentation, students signed up to meet one-on-one with her. Noticing the positive impact, other teachers in the building soon reached out to Nurie, and as result she has scheduled visits in two SAT prep classes in the upcoming week.
Nurie's successful visits are a glimpse into the hard work and dedication it takes to be a college adviser. As the month of August wraps up, we are excited to see what the school year will bring for the college advisers, and the students we serve.