Image: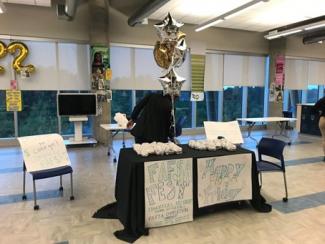 by Renni Turpin
In the world of college admissions, October 1st means one thing: the Free Application for Federal Student Aid (FAFSA) is open. For most college-bound students, the FAFSA is the most important financial aid form, allowing students to access federal grants, work-study, loans, and institutional aid. GCAC Adviser Isis Owusu said, "FAFSA completion is one of the greatest predictors of students attending college because cost is the largest barrier to accessing higher education. For many students, completing the FAFSA turns college from inaccessible to attainable." While the FAFSA is indisputably important, it is also maligned for being complex, intrusive, and bureaucratic. This is where GCAC Advisers come in!
Across the state, GCAC Advisers are ready to assist students and their families with understanding the financial aid process and filling out the FAFSA form. From raffles, to pizza and ice cream parties, and college gear giveaways, GCAC Advisers are working to demystify the process and make the FAFSA fun. Adviser Chaney Wynne kicked off the FAFSA season at Drew Charter School in Atlanta with her first FAFSA Friday: a breakfast sandwich celebration (pictured below). Beyond personalized attention and consistent support in the financial aid process, GCAC advisers are incentivizing FAFSA completion to ensure students are positioned to make informed decisions about their post-secondary plans.
In collaboration with the Georgia Student Finance Commission, other college access programs, and school partners, advisers have devised a series of events and initiatives to promote FAFSA completion. At Rockdale County High School, Adviser Raiven Harris has planned a slate of events with multiple FSA-ID creation workshops, FAFSA group completion workshops, and weekly after-hours blocks for individualized assistance for families. At Cairo High School in South Georgia, Adviser Lauren Waldron is collaborating with CollegeMakers and various school staff to put on numerous activities for FAFSA completion including weekly workshops, both virtual and in-person, and large-scale events. These events are designed to lower the pressure surrounding the financial aid process, but also raise students' knowledge and awareness of its importance.