Teaching and Learning with the Governor's Teaching Fellows
While some faculty may have felt isolated as they implemented new teaching techniques this spring, participants and alumni of the Governor's Teaching Fellows (GTF) program could lean on their GTF connections through the transition.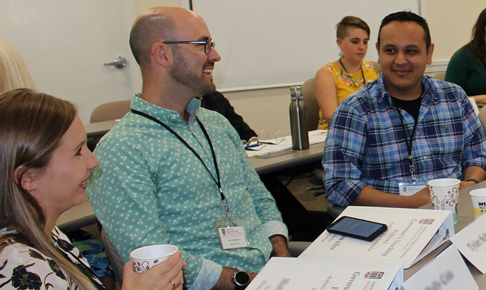 Leslie Gordon, in her first year as program director, conducted a multi-point examination of the program's structure as she looks toward the future of faculty development. "I had a very rewarding year with this excellent group of faculty and our outstanding GTF team," said Gordon. "We offer a valuable and successful program, so one of my goals for the year was to strengthen the communications about it. Externally, we are identifying institutions that may need to know more about what our program can offer their faculty. Internally, we bring fellows and IHE faculty together in meaningful conversations."
  
During the spring, IHE professors Amy Stich and George Spencer presented their research on first-generation students and access pathways respectively. The sessions sparked thoughtful discussions as the fellows shared applications of those research strands to matters of pedagogy and student engagement.
The program also benefits from the expertise of other seasoned faculty, such as Cynthia Alby from Georgia College, who shares her own successful teaching strategies formed over many years. The fellows collaborate, practice the techniques, and are encouraged to implement them in their classrooms. Charlie Harris, a fellow 2019-2020, commented, "[It] changed the way I teach and engage with my students. [They] told me that the formative assessments and other active engagement activities that I introduced in my courses have increased their learning."
This immediate positive impact, on even the most seasoned instructors, is the core of the program. The selection process is highly competitive, and the fellows are already accomplished and talented educators. The fellows learn from each other and from the program's strong cadre of facilitators and speakers, who offer support beyond the scheduled sessions. Recent fellow Alicia Briganti acknowledged, "I now have an amazing group of colleagues in my network who continue to share ideas and offer encouragement and motivation even after the program has ended."
---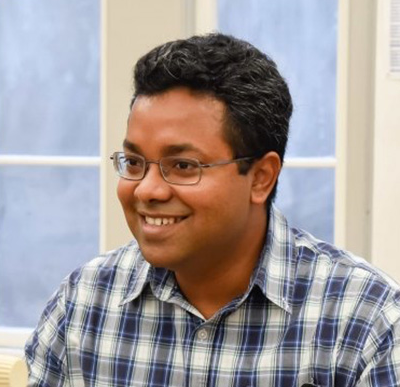 Hasitha Mahabaduge, Georgia College experimental physics professor and GTF program alumnus (2019-2020), received prestigious life-time recognition as a 2020 Fellow of the International Society for the Scholarship of Teaching and Learning (ISSoTL). The Fellows are recognized for seeking "new ways of thinking, doing and learning" and striving for "holistic, meaningful, intentional approaches to higher education." 
Mahabaduge acknowledged the value of his GTF experience among his other fellowships since 2016. "As a personal feat, winning this fellowship makes a complete set for me in terms of fellowships. Each of the fellowships helped me to develop as a researcher and as an educator."
He also recently won the 2020 University System of Georgia (USG) Board of Regents Felton Jenkins Jr. Hall of Fame Faculty Award for his "strong commitment to teaching and student success."
---
Karla-Sue Marriott and Anne Katz, fellows from the 2015 GTF program, continue their collaborations in a research project to reinforce close-reading skills among science majors.
Marriott, interim chair of the Chemistry and Forensic Science Department at Savannah State University, is the PI for a five-year grant from the National Institutes of Health. Katz, associate professor of Curriculum, Foundations & Reading at Georgia Southern University, is working with her "to spark a desire in students to become self-directed learners as well as open-minded and ethical biomedical scientists." The students are exposed to a variety of texts and given the opportunity to practice unpacking the information and making new intellectual connections.
---
Aditi Pai, associate professor of biology and co-director of the Teaching Resource and Research Center at Spelman College and GTF alumna (2018-2019), is featured in an article and provides classroom tips for retaining STEM majors in the online resource, Course Hero. Pai notes the high attrition rates among Biology majors, "[W]e want to cultivate an interest in science that will sustain beyond their college years."
Pai elaborated on her "personalized instruction" approach, which seeks to engage students in science education by making the learning about them. She helps students transfer concepts from pages in a textbook to their immediate environment and experiences and encourages discussion. Pai also responsively paces her classes to maintain interest.