Image: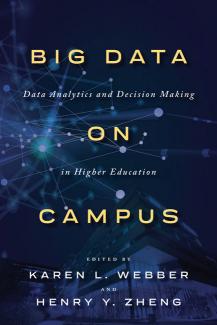 A new book on the use of data analytics, edited by Karen Webber and Henry Y. Zheng, has been released by Johns Hopkins Press. Using a series of focused discussions and case studies, Big Data on Campus: Data Analytics and Decision Making in Higher Education, helps readers understand how analytics can support major organizational functions in higher education, including admission decisions, retention and enrollment management, student life and engagement, academic and career advising, student learning and assessment, and academic program planning. 
The final section of the book addresses major issues and human factors involved in using analytics to support decision making; the ethical, cultural, and managerial implications of its use; the role of university leaders in promoting analytics in decision making; and the need for a strong campus community to embrace the analytics revolution.
The book is available from all major bookstores Amazon, Barnes & Noble, and Johns Hopkins Press and in UGA and IHE libraries.
Dr. Webber and Dr. Zhang's interview with Inside Higher Ed is available: https://www.insidehighered.com/news/2020/11/10/authors-discuss-new-book-big-data-campus.