Image: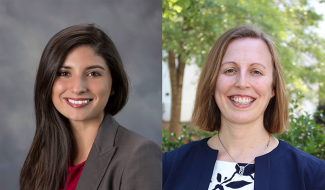 Denisa Gándara (PhD 2016) and Meredith Billings (Postdoc, 2017-2019) present Causal Inference for Policy Analysis in Higher Education on Friday, October 30 from 12:00-1:30 eastern.
The program is part of the ASHE Research Workshop series. According to the announcement, "[Gándara and Billings] will introduce participants to causal-inference designs with a focus on applications to policy analysis. [They] will also address challenges associated with causal-inference research as well as common mistakes made in data analysis, interpretation of findings, and reporting results."
Registration information available at: https://www.ashe.ws/ev_calendar_day.asp?date=10/30/2020&eventid=74
Gándara is assistant professor of higher education at Southern Methodist University. Billings is assistant professor of educational leadership at Sam Houston State University.