Image: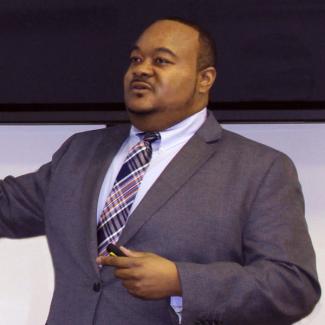 The Institute of Higher Education is pleased to announce the appointment of George C. Spencer Jr. as assistant professor of higher education beginning fall 2019. He joins IHE from the Steinhardt Graduate School of Culture, Education, and Human Development at New York University where he has been a Dean's Faculty Fellow since 2017.
"I am delighted to join the faculty of the Institute of Higher Education at UGA," says Spencer. "It is exciting to join such an incredibly talented and innovative community of scholars—both faculty and graduate students—with whom I share a passion for understanding how we can best ensure college access and success for all students."
Spencer's research seeks to understand how public policies and program interventions can diminish socioeconomic and racial/ethnic opportunity gaps in education. Drawing primarily from the economics of education and sociology, he employs rigorous quantitative methods to improve understanding of students' educational pathways from high school through college and evaluate the effectiveness of policy levers intended to improve college readiness, access, and completion.
His current projects include an evaluation of statewide articulation policies to support student transfers from two-year to four-year public colleges. He also recently collaborated on a quasi-experimental investigation into the effects of college-level coursework in Ethnic Studies on students' racial attitudes.
The American Educational Research Association (AERA) awarded Spencer a 2019-2020 grant to investigate how institutional context and state-level policies relate to high-school students' dual enrollment access.
IHE Interim Director Jim Hearn says, "We are pleased that Dr. Spencer is bringing his expertise, experience, and commitment to the Institute. Expanding access and opportunity for all is postsecondary education's most pressing challenge, and he will help us ensure that our research, teaching, and public engagements each effectively address that challenge."
Spencer earned a B.S. in communication studies from Northwestern University and earned an Ed.M. in education policy & management and an Ed.D. in education policy, leadership, instruction & practice from the Harvard Graduate School of Education. Between his masters and doctoral degree studies, he served as a research associate with the Consortium on Financing Higher Education (COFHE) at the Massachusetts Institute of Technology.