Image: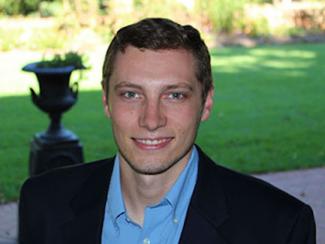 Joshua Patterson, a doctoral candidate in the Institute of Higher Education, along with two University of Georgia colleagues, is a recipient of a national research award supporting innovative, interdisciplinary scholarship based on IDEALS data.
IDEALS is a national, longitudinal research project that seeks to understand undergraduate encounters with religious and worldview diversity. Designed in partnership with Interfaith Youth Core and researchers from The Ohio State University and North Carolina State University, IDEALS focuses on students' perceptions of and engagement with worldview diversity and how collegiate experiences shape students' pluralism orientations and attitudes toward others. The awards are made possible through support of The Andrew W. Mellon Foundation.
Patterson will be working with Kate Daley-Bailey, an academic advisor at UGA, and Robert Foster, a lecturer in religion and the New Testament in the department of religion. Their project, one of 10 to receive awards, is titled "The Transformative Power of Religious Coursework?: Exploring Student Expectations and Attitudes about Religious Diversity and Interreligious Cooperation for Positive Social Change."
Their study will investigate what pre-college factors might influence students' likelihood to take religion courses and which factors have the largest impact on their pre-college responses with respect to 1) appreciative knowledge of, 2) positive attitudes towards, and 3) action-oriented relationships with individuals from different spiritual and religious backgrounds.  The study will then test the effect of religion coursework on these outcomes.
A two-day symposium highlighting the findings of the IDEALS Research Awards will be held in Atlanta next September. The conference will feature nationally renowned speakers, interactive workshops, and in-depth discussions of IDEALS research.
Kate Daley-Bailey received her A.B. and M.A. degrees in religion from the University of Georgia. She has taught religion courses at the collegiate level prior to becoming a full-time academic advisor. Daley-Bailey is interested in studying what expectations first-year students have about studying religion in the classroom, as well as the effects religion courses have on first-year students' worldviews. As a proponent of the developmental advising approach, in which students work with their advisors to choose majors and minors, select courses, explore academic resources and personal development opportunities, her goal is to use the results gleamed from IDEALS data to better understand first-year students' expectations and motivations, as well as any notable effects which result from engaging religious and cultural diversity in an academic setting.
Robert Foster has taught at UGA since 2013. Prior to coming to UGA, he taught at Abilene Christian University, Southern Methodist University, and Texas Christian University. His research and teaching interests include comparative religious ethics, cultural studies of religion, ethics of the New Testament, biblical theology, and Christianity and racial justice. Foster co-directs the 2017-2018 Religion and the Common Good Seminar at UGA, along with Patterson. He also teaches an introductory course on Judaism, Christianity, & Islam as well as a course on religious thought, with a focus on how religious worldviews influence ethical decisions. Foster received the UGA Black Male Leadership Society Faculty Member of the Year award for 2015-2016. He is active within the Athens community and North Georgia in partnerships focused on racial justice and the rights of undocumented immigrants.
Joshua Patterson is studying organizational change and decision making at IHE, particularly with respect to the humanities and religious studies in higher education. These research interests evolved out of his B.A. and M.A. in religious studies. Patterson currently serves as a graduate assistant to the Governor's Teaching Fellows program hosting yearlong and summer faculty development symposia. Additionally, he has served as an organizational researcher and consultant for offices at UGA that serve teaching and learning, and student success. He has worked with Foster to create spaces for students, faculty, staff, and community members to discuss the topic of religion and the common good, and facilitate dialogue across differences. Patterson has presented research related to learning goals in religious studies and the role of religious studies faculty in student identity formation, and served as a student editor on a volume of the Education Law and Policy Review focusing on church and state law in education.