Image: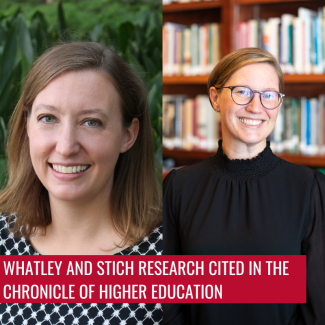 by Jewel Caruso
A research paper co-authored by Amy Stich and Melissa Whatley in 2020 recently appeared in The Chronicle of Higher Education.
The new article, titled "Latitudes: To Improve Study-Abroad Rates, College Focus on the Missing Students" by Karin Fischer, discusses the obstacles underrepresented students experience with study abroad opportunities. When the topic of research is brought up, Fischer brings in Whatley and Stich's paper published in The Journal of Higher Education, "From Exclusive to Inclusive: A Mixed-Methods Investigation of Study Abroad Participation and Practices."
Whatley and Stich claim that institutions that craft their policies and practices to zero in on inequalities of access to international programs have more success reaching a diverse pool of students. Whatley is also quoted in the article, "Yes, finances can be a hurdle, but I think it can be an easy excuse. A scholarship alone isn't going to solve problems of access and inclusion. Students need to be able to see themselves participating in study abroad."
Overall, Whatley and Stich's research shows that the solution to opening possibilities for more students is not simply to throw more money into scholarship opportunities. Better communication about study abroad and the institutional practices and policies around these programs are vital.
To view the full Chronicle article, visit here.
To see Whatley and Stich's 2020 research, visit here.