Image: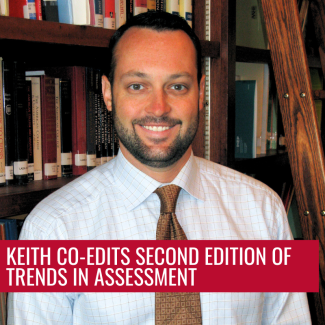 by Jewel Caruso
Caleb Keith (PhD 2017) has recently co-edited the second edition of Trends in Assessment: Ideas, Opportunities, and Issues for Higher Education, a book published by Routledge. This second edition was released in early October and delves into the historical, current, and future directions of assessment in higher education.
The wealth of information for Trends in Assessment was derived from sessions hosted by the Assessment Institute; the oldest and largest event in the U.S. dedicated to assessment and improvement in higher education. Keith and his co-editor curated chapters that highlight critical topics, tracks, and themes from this annual event, with contributors who are themselves organizers of the Assessment Institute. They organized the work to offer valuable historical insights, contemporary trends in higher education, recommendations for the future, and potential implications.
In his review of the volume, Robert W. Aaron of Northwestern University wrote, "The new edition of this important book comes at a crucial time. As we emerge from the COVID-19 pandemic, and work in a difficult time of blatant racial injustice, higher education must take a closer look at the metrics we use to determine institutional effectiveness and student success."
In addition to his editorial role, Keith co-authored two substantive chapters. The first focuses on evaluations of student needs and co-curricular activities. The final chapter, titled "Themes, Perspectives, and Meta-Trends in Assessment" provides a valuable environmental scan and overview of major trends that likely will shape the future.
Keith has recently assumed the position of director of research strategy and initiatives in the Office of the Vice Chancellor for Research at Indiana University-Purdue University Indianapolis (IUPUI). Prior to this role, he served as the director of institutional improvement at IUPUI, where he addressed the informational needs of both internal and external constituencies.
For a preview of the book, visit: Trends in Assessment: Ideas, Opportunities, and Issues for Higher Education.