Image: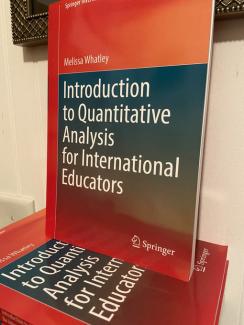 Melissa Whatley's quip on Twitter is representative of the humor and approachability that she brings to quantitative analysis. She writes, "when I was in the first grade all I wanted to do was be an author. I'm not sure a quant methods textbook is what 5-year-old me had in mind, but maybe this will do."
Congratulations to MIHE PhD Melissa Whatley on the release of her new textbook on quantitative research by Springer. Her book, Introduction to Quantitative Analysis for International Educators, is geared toward education scholars, graduate students, and others with little prior knowledge or experience with statistics. 
Every chapter explains foundational concepts of quantitative analysis through practice problems, datasets, real life examples, and research from a variety of topics and international sources.
And there's a nice nod to MIHE's Rob Toutkoushian in Acknowledgments, where she writes that he is "hands down the best qualitative methods teacher and advisor that a graduate student could ask for."
Whatley earned her Ph.D. in Higher Education from the McBee Institute of Higher Education in 2019 and currently works as an assistant professor of international and global education at the School for International Training's Graduate Institute. Her research focuses on access and equity in international education in community colleges and study abroad programs.
Read more about the publication on the Springer site: http://ow.ly/ZMrh50IZeVr