Image: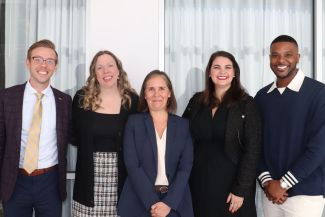 "Overwhelmed with gratitude" is how Sean Baser described his emotions at the annual McBee Institute student awards lunch held on Monday, October 24.
Sean received the Thomas G. Dyer Outstanding Dissertation Research Award. His current research examines state postsecondary authorization in Georgia and builds upon his work constructing a 50-state inventory of state authorization approaches as Co-PI on a grant from SHEEO/Arnold Ventures. Sean employs a single-case study design to analyze internal and external influences on the authorization and licensing of postsecondary education institutions ranging from four-year for-profit colleges to vocational and professional schools (e.g., nursing, cosmetology, driver services). 
In his introduction, Erik Ness said, "Sean's dissertation, along with his concurrent projects on the topic, stands to make seminal contributions to our conceptual understanding of state oversight and to our practical understanding of how to organize and prioritize authorization efforts."
Sean's influence around the Institute is appreciated as well. Ness added, "I have been impressed, not only by his productivity and ingenuity, but also by the ease and energy that he brings to every project and conversation."
Recipients of the Dyer Outstanding Dissertation Research Award are selected annually in recognition of their pursuit of rigorous original scholarship in higher education. The award is named in honor and memory of Tom Dyer who was a professor of higher education and history and also the director of the Institute until his retirement in 2006.
Alexa Arndt received the Zell and Shirley Miller Fellowship for 2022-2023. In Alexa's introduction, Amy Stich her major professor, described Alexa's diligence and intellectual fearlessness. "Alexa's fearlessness promises to push this incredible bright, hardworking, and ambitious natural leader to be an absolute force in the field of higher education." 
Alexa expressed her gratefulness to the faculty for their encouragement and support. "I hope Dr. Stich knows that this award recognizes her as much as it recognizes me…. [She is] an incredible scholar and mentor." Alexa also acknowledged the opportunity and support from her assistantship adviser, Dr. Carolina Darbisi at the JW Fanning Institute for Leadership Development.
Fellowship recipients are selected based on their scholarly potential and assessment of academic record and professional achievement. The fellowship was established to support doctoral study of significant issues in the field of higher education and was established in honor of the late Governor and his wife.
Mary Kate Steinbeck was awarded the Libby V. Morris Leadership Award for her commitment to the scholarly discipline of higher education and also her role in building a community of peers at the McBee Institute. Mary Kate entered the Ph.D. program in August 2020 and undertook the task of informally bringing students together online or outdoors to build the ties between students that is so important to graduate education.
 
In his introduction, Timothy R. Cain commended Mary Kate's work and noted, "It is an honor of which you should be proud. It is based on what you have done and what you have the promise to do. As such, it comes with an expectation that you will lead, you will serve, and that you will make higher education better for those who most need it to be better."
May Kate continued the focus on community in her remarks. She thanked the donors who contribute to the scholarship each year and acknowledged faculty across campus who provide interesting assistantship work and serve on her dissertation committee. Of the professions in the McBee Institute, she said, "Each member of the faculty has been supportive and informative in my transition from practitioner to scholar." She also commended Dr. Morris' leadership and the legacy she has built for the McBee Institute and calling her an "inspiration."
The Morris Award recognizes a student who shows potential for leadership in colleges and universities and fosters a commitment to the land-grant missions of instruction, research, and public service. It honors the effective influence and extraordinary vision of former director Libby V. Morris.
Emily Chen-Bendle received the J. Douglas Toma Excellence in Scholarship and Service Award. "It is so meaningful to receive this award from an institute and from a group of people for whom I have such profound respect," she said.
Emily actively pursues research and publication projects while maintaining a high standard in the classroom and institutional service. Dr. Greg Wolniak highlighted her extraordinary ability to translate research for a variety of audiences. She has co-written several articles, reports and book reviews with three different faculty members in the most competitive journals in the field of higher education and also first-authored a post in the widely read Psychology Today blog.
In her remarks, Emily expressed her gratitude to the faculty, staff, and students who create an environment with an "extraordinary pairing of collegiality and excellence that strikes me as a hallmark of the McBee Institute of Higher Education overall."
Her major professor Greg Wolniak said Emily "truly embodies the purpose of this award through her record of academic and scholarly achievement and institutional engagement." Through her many research projects with several of the faculty members and her support of outreach programs at the Institute, Emily is distinguished by her ability to translate research and theory for a wide range of audiences and make an impact.
Emily acknowledged the awards' late namesake, Doug Toma, in her remarks. He was instrumental in the launch of the Executive Ed.D. program at the McBee Institute, where she currently serves as part of her graduate assistantship. The award recognizes students' academic achievement and their service to the profession, as noted by institutional engagement and/or service to the profession. 
Davonte' Biggers was named the inaugural McBee Scholar. This new endowed assistantship is funded by the Louise McBee Endowment for Excellence and Engagement as is part of her substantial legacy of advancing higher education. Davonte' has experience in a variety of higher education settings and disciplines. At Emory University, he was a program coordinator for the Institute of Jewish Studies and the later for the Physics department. He also worked in business operations and on strategic initiatives in the provost's office.
Davonte' expressed his appreciation in being a part of Dr. McBee's legacy through the award looked forward to advancing the principles demonstrated throughout her career of advancing effectiveness, equity, diversity, efficiency, and innovation in colleges and universities. 
"Receiving this award is invaluable to my Ph.D. journey in support for professional development, including educational materials, professional meeting attendance, and research travel," said Davonte'. "I am dedicated to embodying the principles and values of both Dr. McBee and the McBee Institute—advancing effectiveness, equity, diversity, efficiency, and innovation in colleges and universities."
Erik Ness, the chair of the selection committee, noted, "Mr. Biggers is a Renaissance man, spanning humanities and hard sciences, public and private universities, US and international experiences. He shares interests with Dr. McBee and her commitment to supporting marginalized communities."