Image: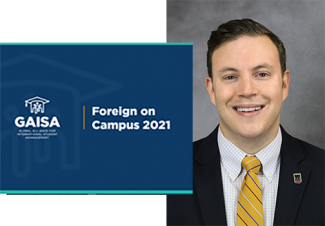 With the onset of the pandemic, higher education was forced to adapt to online and hybrid education, and international students were significantly affected by these changes.
The Global Alliance for International Student Advancement (GAISA) recently partnered with Hanover Research to investigate and release a series of research briefs focused on international students.
The theme of this partnership is Reimagining International Education in a Post-Covid World. These reports should help institutions of higher education support international students better, with the research holistically considering how every campus role can work to improve the international student experience.
Known for his work with the local international student community and as director of the Office of International Student Life, IHE PhD student Justin Jeffery serves on the board of directors of GAISA. 
According to Jeffery, as higher education recovers from the pandemic, "a special focus on international students is needed as these students contribute greatly to graduate programs, research agendas, and the overall vibrancy of our global campuses."
Future reports will focus on mental health, workforce readiness, and social experiences.
Jeffery looks forward the results of the project noting, "[These topics] align with our goals for international students here at UGA, and especially at other large public research institutions nationwide."
GAISA's most current research brief "Foreign on Campus" can be downloaded here.
Other research partners include EDUCAUSE, New England Board of Higher Education, ACE, and NAFSA.