Image: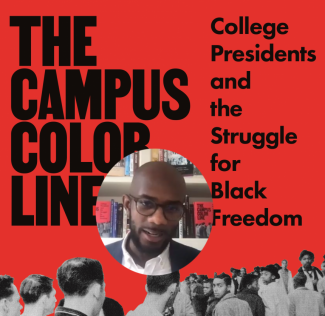 Dr. Eddie R. Cole visited the Institute virtually on Monday, February 8 to discuss the research and findings of his book, The Campus Color Line: College Presidents and the Struggle for Black Freedom (2020, Princeton University Press).
He highlighted how several presidents actively shaped racial policies and practices on their campuses and beyond in the mid-20th century and how complex bureaucracies within higher education systems inhibit consistent messaging and clear communication.
His lines of inquiry remain relevant today as they impact role of leaders at HBCUs, of messaging around issues of racial justice and injustice, of programs to improve equity, diversity and inclusion, and how to reckon with the past.
Event welcome by Grace Covello, and Dr. Timothy Cain introduced Dr. Cole. 
The event was part of the 60th anniversary of the desegregation of the University of Georgia and was presented by the Institute's Critical Perspectives on Race Committee.