Image: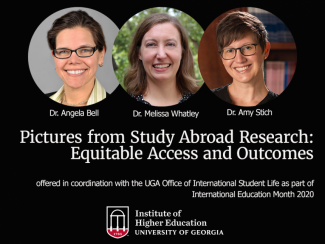 On November 6, the Institute welcomed back Angela Bell (PhD 2009) and Melissa Whatley (PhD 2019) for virtual presentations on the state of study abroad research and how these programs can survive the pandemic and emerge as agents for more equitable opportunities and outcomes for college students.
Angela Bell, vice chancellor of research and policy analysis of the University System of Georgia, shared findings of and implications from the Consortium for Analysis of Student Success through International Education (CASSIE) research partnership, as well as her own individual work in the field.
Melissa Whatley, postdoctoral research scholar at the Belk Center for Community College Leadership and Research at North Carolina State University, highlighted research on the two-year institution sector as she brought insights from her recent articles.
Amy Stich moderated the session which included brief overviews of the participants' research, discussion of limits to and hopes for future research, and responses questions from the audience.
The program was presented as part of the Office of International Student Life's International Education Month.