Four doctoral students in the Institute of Higher Education received awards at a luncheon hosted by IHE on September 24th.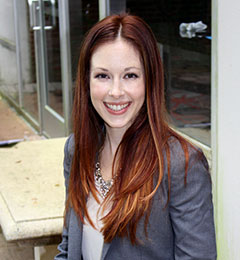 Lindsey Hammond and Emmanuel Little were the recipients of awards honoring the memories of IHE faculty members Thomas G. Dyer and J. Douglas Toma, and Charles Sanchez was the inaugural recipient of the Libby V. Morris Leadership award. The Zell and Shirley Miller Fellowship, established to honor the late Georgia governor and his wife, was given to Melissa Whatley.
Lindsey Hammond received the Thomas G. Dyer Outstanding Dissertation Research Award for "rigorous original scholarship in the field of higher education." Hammond is a third-year doctoral student and a recipient of a Graduate School Research Assistantship award. She participates in projects related to public policy, college completion, information utilization in the policymaking process, intermediary organizations, and higher education governance changes. Her dissertation uses case studies as well as emergent methods of regression discontinuity and social network analysis to illuminate the process and the impact of work-force development policies on post-secondary education and their effects on students from underserved populations.
"I'm honored to receive this award named for such a self-possessed and impactful person," said Hammond. "I aim to live up to its legacy and am certain that my experiences in IHE have strengthened me immeasurably to conduct meaningful research."
Dyer, professor of higher education and history, was a longtime UGA administrator who served as IHE director at the time of his retirement in 2006. His many honors included being named University Professor in 1998 and posthumously receiving the inaugural President's Medal from the UGA Alumni Association in 2013.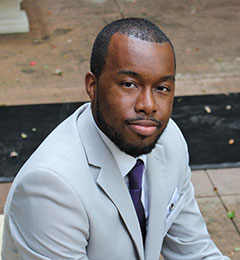 Emmanuel Little received the J. Douglas Toma Excellence in Scholarship and Service award for his academic achievements and institutional engagement. Little is the director of the state's first and only Call Me MISTER (Mentors Instructing Students Toward Effective Role models) program, located at Georgia College. The program strives to increase the pool of available teachers from diverse backgrounds, particularly for low-performing elementary schools.  He also directs Georgia College's African-American Male Initiative, where he has assisted in procuring over $200,000 for retention, progression, and graduation efforts of Black male undergraduate students.
In his remarks, Little said, "I have grown exponentially as a scholar throughout my time at the Institute of Higher Education. I appreciate the opportunities to interact with professors who are current leaders in the field as well as my peers who will undoubtedly help shape the future of higher education. I am thankful to receive the Toma award and hope to continue upholding the transformational commitment to research and service exhibited by its namesake."
Toma, professor of higher education and a highly regarded scholar, developed IHE's executive doctoral program in higher education management, which was launched in 2010.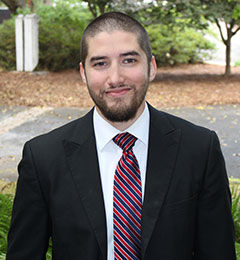 The inaugural Libby V. Morris Leadership award was given to Charles Sanchez for his potential for leadership and his commitment to the land-grant missions of the university. He is the graduate assistant for the Georgia College Advising Corps (GCAC), an IHE public service and outreach program that places recent college graduates in high schools to serve as college advisers for underrepresented student populations. In this role, Sanchez directly coaches three college advisers, manages program-level data, and assists with the curriculum development for and instruction during the month-long adviser training program. As a third-year doctoral student, Sanchez also researches factors contributing to and limiting college access for underrepresented high school students.
 "Opportunity has been and continues to be the strongest recurring theme of my educational career," said Sanchez. "I am grateful for the opportunity to study at IHE while also being able to serve with the GCAC. This has allowed me to integrate my coursework and have a practical impact on addressing issues of college access – a personally important area to me."
Morris is the Zell Miller distinguished professor and director of the Institute of Higher Education. At the request of UGA President Jere Morehead, she is presently serving as interim senior vice president for academic affairs and provost.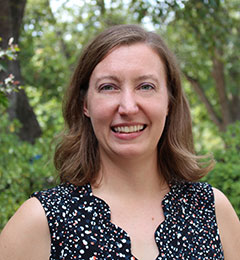 The Zell and Shirley Miller Fellowship was awarded to Melissa Whatley as a "doctoral student of high promise." The fellowship supports doctoral study of significant issues in the field of higher education. During the past year, Whatley presented her research at numerous academic conferences and was an invited presenter at the 2018 Summer Institute at Boston College's Center for International Higher Education. Her dissertation research employs advanced quantitative research methods to explore social stratification in U.S. study abroad. She is set to defend during the fall 2018 semester.
Whatley holds a graduate assistantship in UGA's Survey Research and Evaluation unit, housed in the Carl Vinson Institute of Government. In this role, she designs and implements surveys, and evaluates their resulting data, on a broad range of topics.
"I am very grateful for the on-going support from faculty and fellow students in IHE," said Whatley. "My dissertation committee has provided me with exceptional guidance and encouragement throughout the writing process, and I have been afforded many opportunities to build and advance my research agenda thanks to IHE's commitment to student success."
The Zell and Shirley Miller Fellowship was established in 2005 as the first student scholarship awarded by the Institute of Higher Education.
At the event, Interim Director Jim Hearn said, "We are enormously grateful to those who have contributed to these scholarship funds.  Through these gifts, our donors enable the Institute to provide valued financial support to the next generation of higher-education leaders."