Image: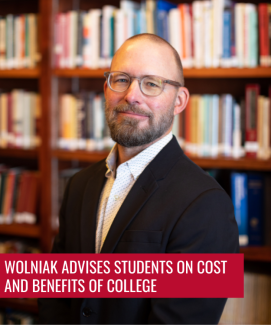 by Jewel Caruso
Gregory Wolniak, associate professor at the McBee Institute, was featured in WalletHub's College and University Rankings. In the article, WalletHub compared over 900 institutions to help determine the top-performing schools at the lowest possible costs to undergraduates. They also help predict future outcomes from these institutions to "show the value of the education students can expect to receive beyond their undergraduate studies." To help further understand this issue, WalletHub reached out to experts, like Dr. Wolniak, to discuss cost-related matters in post-secondary education.
For prospective college applicants, the finances of attending are one of the most daunting. While deciding on which college to attend, Wolniak provides advice on how to maintain minimal debt while obtaining a good education.
Wolniak states that research consistently shows that the "college or university environment  matters more across numerous learning, developmental, and career & economic outcomes than the kind of institution one attends." He adds that Ivy League and other elite schools are not worth the "high sticker price" and the institutions themselves know this, as the majority of their students do not pay full price.
When asked what types of universities provide the best return on investment, Wolniak advises students to look at how universities help students graduate with their intended degree and which provide broad access to students while retaining high graduation percentages. He also mentions that social mobility rankings are something to consider.
When deciding which institution to attend for great job prospects and minimal debt, Wolniak says "information is key and know that institutions are generally very bad at providing full transparency on what it will cost to attend their institutions for four years."
Rather than focus on the "name brand" universities, focus on the school affordable for you and your family. And finally, attend where you will be more comfortable: "student who feel they belong and are supported by their campus and community make greater developmental gains, and are more likely to persist and graduate."
To see Wolniak's full answers and WalletHub's research, click here to view.