Image: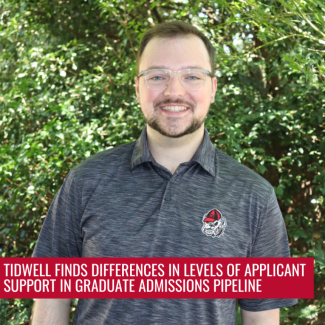 by Jewel Caruso
Research by Michael Tidwell, first-year PhD student, and Ellis S. Logan recently appeared in their article, "Differences in support within the social science graduate admissions pipeline," published in Studies in Graduate and Postdoctoral Education.
The authors sought to better understand the impediments experienced by prospective graduate students in the social sciences as they went through the admissions process. Tidwell and Logan examined survey responses across a range of demographic identifiers to assess perceived levels of social support from faculty mentors and familiar influences as well as financial support from family.
Drawing on social cognitive career theory (SCCT) as well as Bourdieu's forms of capital, the authors framed these varying levels of support as social capital (faculty input), cultural capital (family involvement), and economic capital (financial assistance).
The authors wrote, "This study shows that significant group differences exist within the graduate admission pipeline in terms of both endogenous and exogenous support which can have profound and far-reaching implications on students applying for graduate school."
Specifically, Tidwell and Logan considered demographic factors such as race, first-generational status, gender, and age of the applicants. They found the sharpest and most pervasive differences among prospective students by age. Students over 27 more consistently expressed lower levels of social and financial support. Non-white males over 27 years old, who are first-generation college students, felt the least supported through the pipeline.
Tidwell and Logan advise this work is only the beginning of a broader inquiry. They conclude, "Social and educational scholars should consider these gaps in various types of support and capital access within graduate school applicants in future research to create a more equitable landscape for graduate students."
To view the full article, visit: https://www.emerald.com/insight/content/doi/10.1108/SGPE-01-2023-0010/full/html