Image: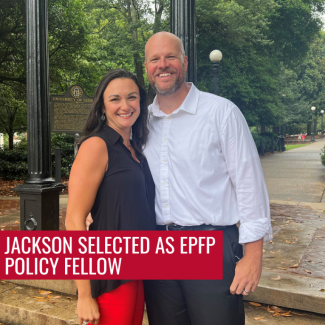 by Jewel Caruso
Stan Jackson (Ph.D. 2023) was selected for the 2023-2024 Education Policy Fellowship Program (EPFP).
EPFP is a national professional development program sponsored by the Institute for Educational Leadership (IEL) that provides potential leaders with the knowledge and networks to advance the core issues of education policy. The individuals selected commit nine months to this professional development experience where they will study three main topics: public policy, leadership, and professional networking. Monthly, they will meet in a conference-based meeting and are able to remain in their full-time positions.
Jackson will participate in the Georgia cohort, facilitated by the Georgia Partnership for Excellence in Education. Their first meeting was this month and hosted at the Metro Atlanta Chamber. 
According to the program website, the Georgia EFPF "provides Fellows with a unique personal development laboratory for applying new insights and for cultivating new skills. The participants will hear and discuss education policy with highly respected policy makers in both Georgia and the nation." 
Currently, Jackson is assistant to the vice president for student affairs at the University of Georgia, leading communications, digital engagement, and information technology initiatives for the Division of Student Affairs and its departments.
Georgia EPFP is an initiative of the Georgia Partnership for Excellence in Education. The Andrew Young School of Policy Studies at Georgia State University and the Office of the Vice President for Public Service and Outreach at The University of Georgia sponsor the program.