Image: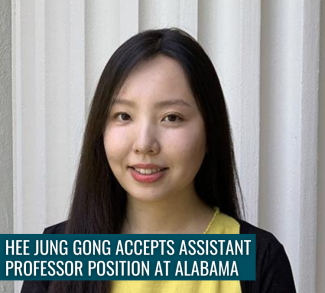 by Jewel Caruso
Hee Jung Gong (PhD 2021) recently accepted a tenure-track assistant professor position in the department of educational leadership, policy and technology studies at the University of Alabama.
Hee Jung shared her excitement on her new position, "I am truly excited to join the Department of Educational Leadership, Policy and Technology studies at the University of Alabama as a tenure-track assistant professor in the higher education program. I appreciate the huge amount of support from the McBee IHE faculty, staff, and colleagues, and all of my collaborators who worked together."
Since earning her degree, Hee Jong had served as a research investigator working t the University of Michigan where she engaged in projects related to admissions practices, such as test-optional/binding policies and early admissions policies.
During her time at the McBee Institute, Hee Jung was awarded the national AERA-NSF Dissertation Grant in 2019-2020, and the Thomas D. Dyer Outstanding Dissertation Research Award in 2020-2021. Her research interests include college access, choice, and success, as well as education policy and STEM higher education.
Congratulations to Hee Jung on this exciting career transition.