Image: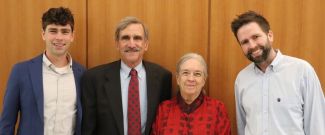 Former students returned for the announcement of the endowment to support the James C. Hearn Lectureship during the Institute's annual awards and recognition luncheon.
The foundational gift was made in honor of the interim director's commitment to excellence in research by his partner, Dean of the College of Public Health Marsha Davis.
In response to the announcement of the lectureship series, Hearn said, "I'm someone who prefers to avoid the spotlight, but I'm tremendously happy that my name will be attached to a new award furthering our mission of bringing to our students the best in higher-education research, policy, leadership, and practice." He added, "Marsha surprised me with this award, aided by Libby Morris. They've crafted it in a way that would help serve the values and priorities that have driven my career as well as the Institute."
The McBee Institute faculty and staff look forward to hosting the inaugural Hearn Lectureship in late 2024. The endowment will defray expenses to host annually a highly-esteemed national researcher of higher education for a seminar or lecture as part of an extended visit to Meigs Hall.
Additional tributes in honor of Professor Hearn may be as contributions to the lectureship series.