Image: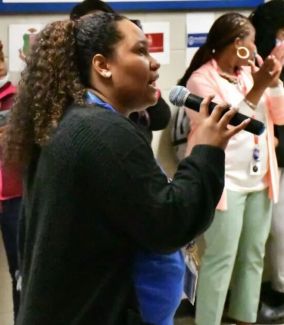 by Emaleigh Fleeman
GCAC advisers are well versed in the various institution types, and make sure students are aware of all options before making post-secondary plans. Several advisers who serve in our partner schools have recently held events to ensure students are exposed to multiple institution types, and the unique opportunities they offer. 
Last month, second year adviser Azariah Partridge held HBCU Week at her school site, Cedar Shoals High School. Part of the week's festivities included a D-9 event in partnership with the National Pan-Hellenic Council at UGA. Current UGA students who are members of the follow black sororities/fraternities were in attendance to stroll/perform: Alpha Kappa Alpha Sorority, Inc., Omega Psi Phi Fraternity, Inc., Delta Sigma Theta Sorority, Inc., Phi Beta Sigma Fraternity, Inc., and Sigma Gamma Rho Sorority, Inc.
CSHS Assistant Principal, Dr. Tolbert who is a member of Alpha Kappa Alpha Sorority, Inc. joined the stroll performance that morning with her sorority sisters. Each organization performed their unique strolls and at the end, all the organizations strolled together in unity. When asked about the D-9 event, Azariah said that, "The importance of this event was to expose and educate all students at CSHS about black greek life as it related to HBCU week. Our students needed to see one of the many things college has to offer."
Advisers at Benjamin E. Mays High School recently supported school staff with College and Career Motivation Week (CCMW). The week kicked off with an HBCU and PWI panel where school staff answered questions from students about attending different institution types. Adia Adams, first-year adviser said "the staff at Mays provided valuable information to students. Because the panel was made up of familiar faces, the student's were not nervous to ask questions." 
D.M. Therrell High School also recently held CCMW with the support of college advisers Jamrya Wilkerson and Keianne Taylor. During CCMW, Middle GA State University offered on the spot acceptances for students, and Wesleyan College visited for College Bound Thursday. This month, advisers will be working in partnership with the Georgia Student Finance Commission to promote "March Madness", an opportunity for high school seniors to apply to colleges in Georgia for free. Various institution types are represented in this initiative, and college advisers are eager to support students to apply to their best fit!