Image: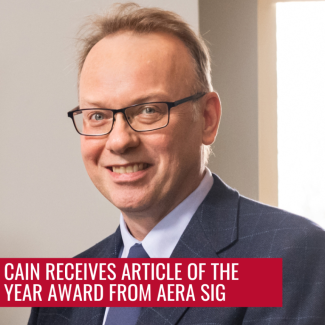 The American Educational Research Association's Queer Studies Special Interest Group recognized the scholarship of Professor Timothy R. Cain and coauthor Michael S. Hevel (associate dean for research, strategy, and outreach at the University of Arkansas College of Education and Health Professions) with the SIS's 2023 article of the year award.
The winning article, "The queer student affairs career of Stephen Lenton, 1970-1980," reflects extensive research into the personal papers of Stephen Lenton and the historical context around Lenton's advocacy efforts while he was an administrator in the student life office at Virginia Commonwealth University. Lenton supported efforts to establish the Gay Alliance of Students as an official student organization in the mid-seventies.
The authors break new ground in capturing the perspective of an early LGBTQIA+ advocate, and openly gay university employee, at a pivotal moment. According to Cain and Hevel, "The years that frame this study represent the beginning of a gradual shift within the student affairs profession from oppressing LGBTQ people to supporting their development."
Cain and Hevel received their award at a special event during the 2023 AERA annual conference in March.
Read the article in the Journal of Women and Gender in Higher Education.