Image: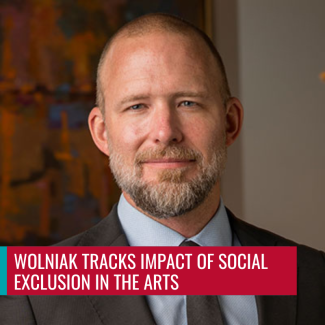 by Jewel Caruso
Gregory Wolniak, associate professor at the McBee Institute, explores social exclusion in the arts with Amy Whitaker, assistant professor of visual art representation at NYU Steinhardt.
In their article, "Social exclusion in the Arts: The dynamics of social and economic mobility across three decades of undergraduate arts alumni in the United States," they highlight the acute diversity disparities in outcomes that persist among arts alumni over three decades.
Wolniak and co-author Whitaker present "a broad interdisciplinary literature review linking artists' economic precarity and need for but resistance to entrepreneurial skills, alongside colonial histories, structural racism, and hierarchies of taste in arts organization."
The authors use engaging data from the Strategic National Arts Alumni Project (SNAAP) to demonstrate the connection between the privilege of arts alumni and their place in the arts workforce. The impact of racial/ethnic and socio-economic exclusion in arts careers is revealed through their data. They assert that practices are rooted in colonial histories and hierarchies "that are maintained and exacerbated ... by continuing structural racism but also by structural economic precarity in the arts."
Wolniak and Whitaker have previously collaborated on issues of lack of diversity in the art professions.
Read the full article on social exclusion here.