Image: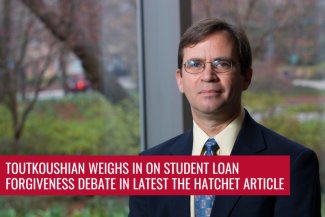 by Jewel Caruso
President Joe Biden recently announced a massive student loan forgiveness plan which led to much debate throughout the country, especially in the higher education community.
Robert Toutkoushian, associate director of the McBee Institute, weighed in on the debate and was quoted in a The Hatchet article. Toutkoushian said the government should take responsibility for automatic eligibility decisions for borrowers rather than make people apply. He also would like to see prioritized forgiveness for those students who did not graduate, as people who were unable to complete their degrees tend to have lower incomes than college graduates.
Toutkoushian writes in an email, "It is a thorny and debatable issue. There is no question that student borrowers will benefit from this program. People will always prefer to not pay for something." The pros and cons of the program are laid out well in the article. and Toutkoushian touches on where the responsibility of the forgiveness payments will lay, the public. He also states the benefit of loan forgiveness to the economy as well. "Biden's plan would also improve the economy because students will be able to more easily purchase goods and spend the money they otherwise would have to use to repay their loans.:
Toutkoushian ends his discussion on student forgiveness by saying the application and repayment process can be confusing, "Many students do not understand how loans and interest work and what the financial implications are of borrowing to pay for college." He maintains the canceled debt will still continue to create challenges for students enrolling in higher education.
Biden's plan includes $10,000 forgiveness for all borrowers with federal loans and up to $20,000 for those who received a Pell Grant. The White House provided its own fact sheet on the plan.
To read the full The Hatcher article, please visit: https://www.gwhatchet.com/2022/08/29/student-debt-cancellation-will-aid-borrowers-but-should-be-more-equitable-experts/