Image: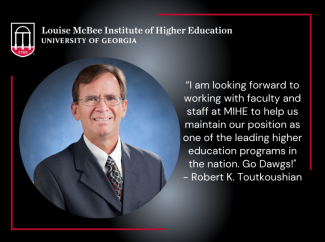 by Jewel Caruso
Robert Toutkoushian, professor of higher education, has been appointed associate director of the McBee Institute. 
The role of associate director provides leadership for the Institute's evaluation and assessment activities. Toutkoushian will also be providing leadership to faculty promotions, tenure reviews, mentoring assignments, tenure reviews, and searches for new faculty and postdoctoral associates. Interim director Hearn and Toutkoushian will be collaborating on key strategic and operational issues facing the McBee Institute.
Toutkoushian joined MIHE in 2009 after holding a faculty position in the Department of Educational Leadership and Policy Studies at Indiana University. He also worked as a research analyst at the University of Minnesota and executive director of the Office of Policy Analysis at the University System of New Hampshire. He holds a PhD in economics from Indiana University and specializes in the application of economics theories and quantitative methods to problems in higher education.
"We're very pleased that Rob Toutkoushian has agreed to assume new responsibilities as the Institute's Associate Director," said Dr. Hearn, who was recently announced as the interim director. "He has been a valued senior faculty member here for many years. Now, with him taking on this new role, the Institute can benefit even more from his leadership talents and administrative savvy."
Congratulations to Dr. Toutkoushian on this new chapter!