Image: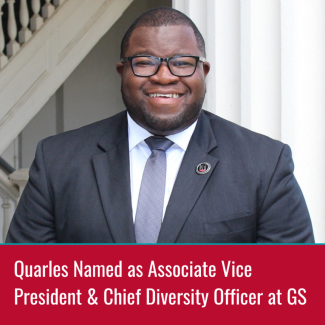 by Jewel Caruso
Dominique A. Quarles (PhD 2019) has been named Georgia Southern University's associate vice president for inclusive excellence and chief diversity officer starting August 1, 2022.
The institution has committed to making inclusive excellence a strategic pillar and a core value. Quarles' position is essential to achieving that goal.
Quarles is an alumnus of GS, earning his B.S. and M.Ed. in Statesboro, and received his Ph.D. at the McBee Institute. His previous roles include director of diversity and inclusion at UGA, assistant director of educational opportunity programs and special assistant to the VP, and most recently, assistant vice president for access, diversity and inclusion at Mississippi State University. 
"I am thrilled to join Georgia Southern and have the opportunity to directly enhance the experiences of faculty, staff, students, and alumni at an institution that means so much to me," Quarles said. "I look forward to working alongside committed colleagues to build upon the foundation of inclusive excellence and positively impact the Georgia Southern community." 
Congratulations to Quarles on his new role. Click here to read the full press from Georgia Southern.