Image: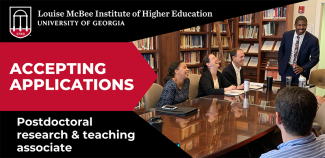 The McBee Institute of Higher Education seeks a postdoctoral research and teaching associate for the 2022-23 academic year.
The postdoctoral research and teaching associate will conduct substantive collaborative research under the mentorship of a senior faculty member and also will pursue independent research projects. In addition, the postdoctoral associate will teach in the core curriculum and will mentor PhD and Executive EdD students in qualitative or mixed-methods research.
This appointment may be renewed for a second academic year upon mutual interest, administrative approval, and the availability of funds.
An earned doctorate in the social sciences, public policy, education or management is required for this position. An additional requirement is expertise with qualitative or mixed research methods as demonstrated through formal instructional experience or established publication history.
MIHE postdoctoral associates have a history of success in employment after their stay at the McBee Institute. Recent postdoctoral associates assumed faculty positions at major research universities as well as policy-analysis positions in nonprofit organizations.
Send application packet (cover letter, cv, and contact information for three references) to ihe@uga.edu.
Review of applications will begin June 1 and continue until filled.