Image: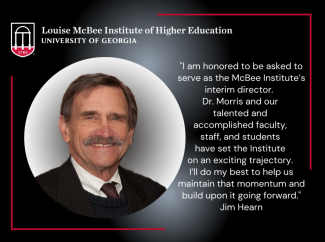 James C. Hearn, associate director and professor in the Louise McBee Institute of Higher Education, has agreed to serve as the Institute's interim director, effective July 1, 2022. 
Libby V. Morris, the Zell B. Miller Distinguished Professor of Higher Education and University Professor, announced in February that she would step down from her role as director of the McBee Institute and return to the faculty. Morris had served as director since 2006.
In an earlier announcement, Senior Vice President for Academic Affairs and Provost S. Jack Hu said, "Dr. Hearn brings an outstanding record of scholarship and leadership to his position." 
Hearn's research focuses on organization and policy in postsecondary education, and his work has been published in sociology, economics, and education journals, as well as in several books. He has served on several editorial boards and currently is a consulting editor for Research in Higher Education. 
Among his accolades, Hearn was named a TIAA Institute Fellow in 2005 and received the Excellence in Public Policy of Higher Education Award from the Association for the Study of Higher Education in 2014. 
"I am honored to be asked to serve as the McBee Institute's interim director," said Hearn.  "Dr. Morris and our talented and accomplished faculty, staff, and students have set the Institute on an exciting trajectory. I'll do my best to help us maintain that momentum and build upon it going forward."
Hearn has served as associate director of the Institute since 2010 and previously served as interim director twice before, during the 2013-2014 and 2018-2019 academic years.