Image: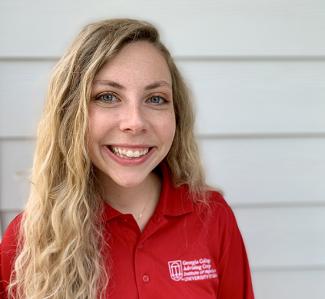 by Renni Turpin
With spring break behind us, Georgia College Advising Corps (GCAC) advisers are planning elaborate decision day events to celebrate seniors' post-secondary plans. GCAC advisers are also beginning to focus their attention on juniors. Starting the college planning process in the junior year is critical, with early scholarship and college applications coming up fast in the fall. The summer before senior year is also a perfect time to visit and research colleges, improve college entrance exam scores and begin a college essay. This is where our college advisers come in.
Emaleigh Fleeman, a recent nominee of the College Advising Corp's highest honor: The True North Award, knows the importance of working with juniors. Emaleigh said of developing ongoing junior engagement that "programming that supports students' post-secondary plans, before senior year of high school is a crucial educational tool to dispute misconceptions."
Emaleigh became a JUMP Junior Engagement Fellow this semester, one of twenty advisers chosen nationally. This pilot program assists junior students in jump-starting their college application process. "In March, I began running an advisement elective called "JUMP" to a cohort of twenty juniors at Social Circle High School" Emaleigh said, "To fulfill the fellowship requirements, at least 10% of the junior class must complete three milestones: listing three career interest, three major interests, and meeting 1:1 with the college adviser to discuss their college search."
Given Emaleigh's strategic effort to integrate this programming alongside existing high school advisement curriculum, she was able to reach these milestones quickly and create a broader plan for junior engagement. Beyond the stated milestone objectives, 100% of cohort members have created a balanced college list and 85% have registered for at least one upcoming college entrance examination. 
During a recent in-service training, Emaleigh shared her successes and strategies with the rest of the GCAC team to implement across our various partner schools. In the final weeks of the school year, advisers across the state will be working hard to integrate these best practices to prepare the class of 2023 for life after high school.