Image: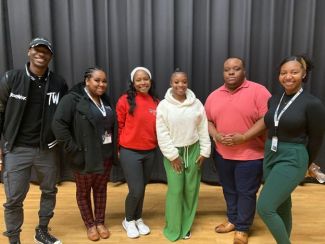 by Emaleigh Fleeman 
Since 2008, November has been recognized as Apply to College Month in Georgia. Many colleges in the University System of Georgia and the Technical College System of Georgia participate by waiving application fees throughout the month of November. College advisers prepare for this initiative by partnering with counseling staff, teachers, colleges, and other organizations to provide multiple opportunities for students to complete college applications.   
Azariah Partridge, a second year adviser at Cedar Shoals High School recently held an "Instant Decision Day" event.  When asked about the event Azariah said, "I held an instant decision day with Georgia Gwinnett College, University of North Georgia, Albany State University, and Middle Georgia State University. They were able to give our students an admissions decision on the spot. Over 30 seniors received an acceptance!" Azariah's Instant Decision Day is just one example of the meaningful work advisers do at their service site. 
In addition to providing opportunities for students to complete college applications, GCAC wants to ensure students are making informed decisions about their post-secondary plans. College advisers have hosted college fairs, college field trips, and panels to better educate students about their options. For example, at D.M. Therrell High School in Atlanta, Georgia, first year adviser Jamrya Wilkerson organized a panel of alumni from both HBCUs and PWIs to share information about their college experience.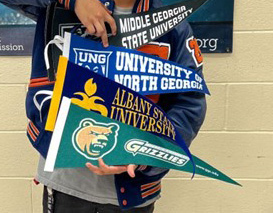 When asked about this event, Jamyra said, "The purpose of the panel discussion was to provide perspectives from underrepresented students who attended Historically Black Colleges and Universities as well as underrepresented students who attended Predominantly White Institutions. Clark Atlanta University, the University of Georgia, Florida State University, Fort Valley State University, Georgia Southwestern State University, and SUNY Old College at Westbury were among the institutions represented."
As of November 20th, 34% of our students have completed at least one college application, a thirteen percentage-point increase over last year. The college advisers will continue to assist students with college applications the rest of the school year.