Image: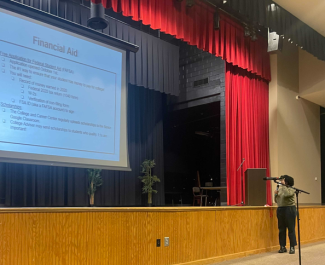 by Renni Turpin
Four months into "FAFSA season," Georgia College Advising Corps (GCAC) college advisers work hard to motivate and support seniors to submit their financial aid forms. The Free Application for Federal Student Aid (FAFSA) is critical for college enrollment and is the gateway for federal and state grants, work-study, and federally backed student loans. According to the Department of Education, 34.4% of seniors at GCAC schools have submitted the FAFSA, putting us more than 2 percentage points above the Georgia average of 31.3%.
GCAC credits these FAFSA successes to the persistence and innovation of our advisers. Cecilia Vu, the adviser at McDonough High School, says, "Family engagement has been critical in completing the FAFSA. Half of the application requires parent information that students won't have access to. By consistently contacting families through emails, text messages, and phone calls, I've been able to remind families the importance of completing FAFSA early." 
Always savvy, Cecilia implemented a prom ticket raffle for students who submitted the FAFSA, leading to record FAFSA submissions at McDonough. "A prom ticket raffle (worth $130) for students who verified their FAFSA status added a tangible near-future reward to incentivize students and parents to complete their FAFSA as soon as they can." 
Several other advisers also have devised compelling incentives for FAFSA submissions, including a special graduation cord and celebratory brunches. 
Beyond incentives, being there every day to support students and families through the financial aid process is the mark of a college adviser. Isis Owusu, a college adviser at D.M. Therrell High School, is pictured giving an evening FAFSA presentation. In part, that FAFSA night has propelled the advisers at Therrell to support over 44% of seniors in submitting a FAFSA thus far. 
Our advisers are spreading the word that it's not too late to submit a FAFSA or college application and will be there to assist their students with reaching their post-secondary goals.