Image: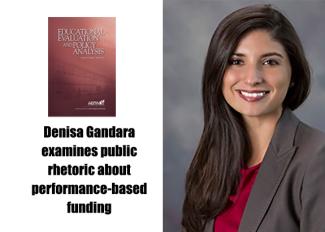 by Larissa Lozano
Denisa Gándara (PhD 2016) and Stijn Daenekindt, (Ghent University), take a unique approach to researching performance-based funding (PBF). While previous research focused narrowly on states that have implemented, their study also includes states that have not implemented this policy through data modeling and analysis of PBF-related rhetoric in newspapers.
In its basic sense, PBF is a policy that coordinates fund allocation from state governments to public colleges and universities based on their performance. They claim it is "one of the most prominent state-level educational policies in the United States, with 29 states implementing a PBF policy as of early 2020."
Gándara and Daenekindt seek to answer two research questions: "What is the dominant rhetoric surrounding PBF in states?" and "How does this rhetoric differ between states that have implemented PBF and states that have chosen not to do so?"
The rhetoric from states that have not implemented PBF focuses on the agents and actors of policymaking.  In both implementer and non-implementer states, the neoliberal approach of focusing on economic growth and prosperity predominates the media messaging.
They also identified that there are three main arguments in favor of the implementation of PBF:  it increases productivity and efficiency in higher education, it increases graduation rates thus helping fill workforce needs,  and it incentivizes colleges and universities to focus on student outcomes. exam
Gándara's and Daenekindt's research is unique not only because it uses data from states that have not implemented PFB, but also because it uses articles from local newspapers - a data source that is rarely used in education policy studies.
"We move beyond the common conceptualization of policy innovation, which has overwhelmingly focused on policy adoption, by drawing comparisons between states that implemented PBF and those that did not", they claim. 
Read the full article in Educational Evaluation and Policy Analysis.
Gándara, D., & Daenekindt, S. (2022). Accountability or Equity: Combining Topic Models and Qualitative Analysis to Examine Public Rhetoric about Performance-Based Funding. Educational Evaluation and Policy Analysis. https://doi.org/10.3102/01623737221081532
Gándara earned her PhD from the McBee Institute. She is currently an assistant professor in the Department of Educational Leadership and Policy at the University of Texas-Austin.